We Rely On Your Support: Did you know that the hundreds of articles written on Phoronix each month are mostly authored by one individual working insane hours? Phoronix.com doesn't have a whole news room with unlimited resources and relies upon people reading our content without blocking ads and alternatively by people subscribing to Phoronix Premium for our ad-free service with other extra features. You can also consider a tip via PayPal.
CompuLab's Intense-PC2 Is A Great Haswell-Based Mini Linux PC
Compared to most Linux PC vendors targeting consumers that are just selling re-branded white box systems with Linux preloaded, CompuLab continues to have an interesting set of original offerings that are Linux-friendly and built really well. The latest system we've had the pleasure of trying out is the Intense-PC2.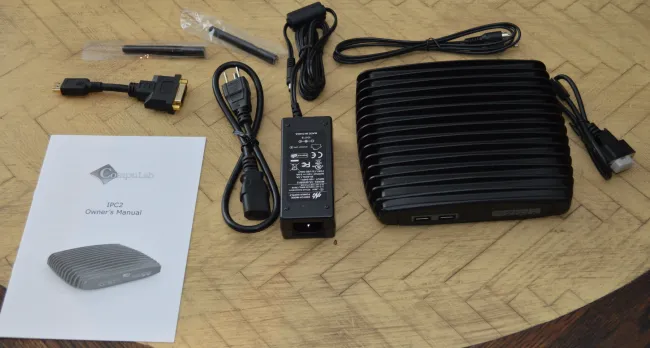 Back in 2012 the Israeli PC vendor sent over the
Intense-PC
as a fanless, Intel Ivy Bridge system that's still running phenomenally with Linux in our labs and has gone through thousands of hours of benchmarking. This year they've introduced the Intense-PC2 as the Intel Haswell upgrade and of course it's fantastic. I'll have a full write-up and comparison of the Intense-PC2 coming in a Phoronix review in the weeks ahead but so far with my testing of this unit it's been working out excellent.
The Intense-PC2 with its Haswell processor supports driving three displays, 4K display support, up to three internal disks, 802.11ac WiFI, and other goodies. You can also buy the IPC2 equipped with a cellular data connection. The IPC2 is housed within CompuLab's very rugged die-cast aluminum chassis. All the IPC2 models are passively cooled and measure in at 19 x 16 x 4cm.
My testing thus far of the Intense-PC2 has been with Ubuntu Linux and so far it's running great -- given its Haswell processor, should run great with any modern Linux distribution. The i7-4600U is a dual-core processor with Hyper Threading that has a 2.1GHz base clock frequency with 3.3GHz Turbo. The i7-4600U is equipped with Intel HD Graphics 4400 and overall this unit has a 15 Watt TDP.
While I'll have many benchmarks of the Intense-PC2 within my full Linux review of it in the weeks ahead, if you're curious about the performance of this passively-cooled system housed within a metal chassis, I uploaded some initial performance figures from the
Phoronix Test Suite
to
OpenBenchmarking.org
with
1409126-LI-COMPULABI00
. If you want to see how your own Linux system compares, just run
phoronix-test-suite benchmark 1409126-LI-COMPULABI00
.
To learn more about the Intense-PC2 right now, visit
the IPC2 product page
.