Trying Out The Debian 8.0 Jessie Installer Alpha 1
With the first alpha release yesterday of the
Debian 8.0 installer
back when I was
briefly in the office
, I decided to try out the updated installer and packages for this next Debian release that's under the
Jessie
codename.
In just having very limited time yesterday before back to traveling, I fired up the Debian Jessie Alpha 1 installer on a
ASUS Zenbook Prime
(UX32VD) ultrabook with Intel Core i7 "Ivy Bridge" processor. With Debian 8.0 currently having the Linux 3.13 kernel, this Intel ultrabook should be in good enough shape for this in-development Debian GNU/Linux release considering it's last year's hardware. In April when I'm back in the office I will be running some fresh Debian "Jessie" benchmarks, including of Debian GNU/kFreeBSD. Those after Debian benchmarks today can view the recent
Debian Wheezy, Jessie, and Sid benchmarks
from earlier in March.
For this testing from the ASUS Zenbook, I first downloaded the first DVD1 of the new Jessie Alpha 1 debian-installer. The Debian ISOs are still in hybrid form so it was easily DD'ed off to a Corsair Flash Voyager USB stick. When booting in UEFI mode, the Debian 8.0 Alpha 1 installer booted just fine and had no issues with either the hybrid USB setup or the UEFI mode. With Debian Wheezy a few times I've run into boot issues on UEFI systems.
When opting to use the graphical Debian installer for Jessie, the display lit up right away and the keyboard worked... However, the trackpad didn't work within the graphical Debian installer. Fortunately, the graphical installer is still easy to navigate just using the keyboard.
The next issue encountered was the 802.11n WiFi not working from within the Debian installer. Network adapter issues with Debian aren't too uncommon during setup, particularly due to the distribution's conservative approach about including binary blob firmwares for the hardware. For those unfamiliar with the Debian firmware state, see
the project's Wiki page
.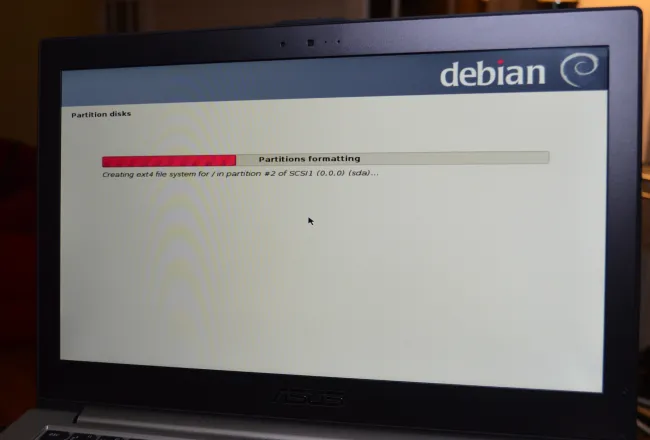 Sans the trackpad and network issue, the Debian installer was quickly putting on all of the 8.0 "Jessie" packages in their current development state and the rest of the installation process went smooth.
The clean Debian Jessie install using the alpha one release of Jessie's debian-installer went fine. Again, more details in April and the months ahead as Debian 8.0 gets closer to being released. After the install process, the trackpad on the ASUS Zenbook Prime was now working fine within the X11 environment.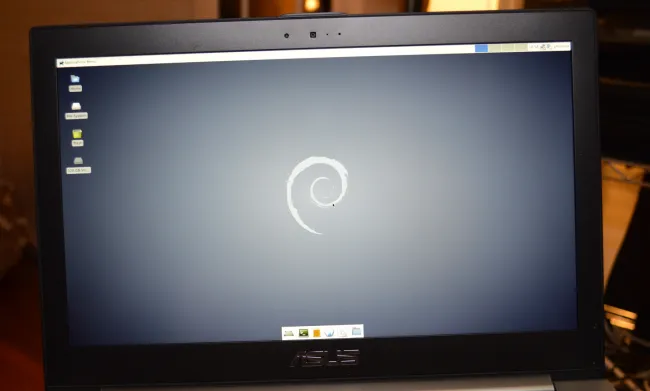 Xfce is the default desktop environment of Debian 8.0 "Jessie", but that will be re-evaluated later in the year to determine the default. Of course, GNOME and other desktops can be easily installed from the massive Debian archive.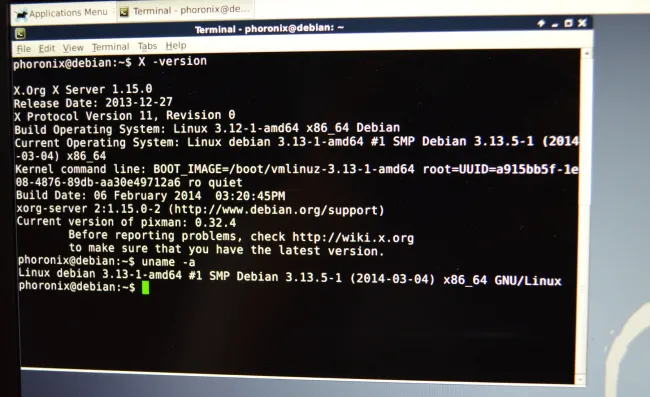 Stay tuned for more Debian 8.0 "Jessie" testing, benchmarking, and announcement coverage -- for both the GNU/Linux and GNU/kFreeBSD flavors -- as things heat up and more people take interest in Debian over
Gabe Newell running Debian
and SteamOS being a fork of Debian.