We Rely On Your Support: Did you know that the hundreds of articles written on Phoronix each month are mostly authored by one individual working insane hours? Phoronix.com doesn't have a whole news room with unlimited resources and relies upon people reading our content without blocking ads and alternatively by people subscribing to Phoronix Premium for our ad-free service with other extra features. You can also consider a tip via PayPal.
Unity 7 Is Now My Desktop, Wins Over Xfce On HiDPI
In continuation of my
OS X Is No Longer On My Main System, But I Already Have Regrets
article from earlier in the week, I have now found more comfort in using Unity 7 on Ubuntu 14.04 LTS for the
ASUS Zenbook Haswell ultrabook
, but the HiDPI experience with Ubuntu's Unity is still far from perfect.
As explained in the earlier article, Xfce was horrible on the ASUS UX301LA ultrabook in large part due to its poor handling of
HiDPI displays
-- this Haswell system has a 2560 x 1440 resolution within a 13.3-inch form factor and powered by
Intel Iris Graphics 5100
. Xfce doesn't have much in the way of HiDPI optimizations and is still relying on the GTK2 tool-kit. The basic scaling factor for Xfce was horrific on Ubuntu 14.04 LTS and caused much eyestrain and problems in my time of using it.
Since writing the earlier article, I switched over to Unity 7 on my Intel HiDPI ultrabook. The experience has been much more pleasant and I've been using it constantly while
out in San Diego this weekend
. During the Ubuntu 14.04 development cycle HiDPI improvements were made --
and tuning is still taking place
ahead of the official release in April.
From within Ubuntu's System Settings Display area, there is a "UI scale" factor for quickly improving the usefulness of Unity on high resolution density displays, but it's not perfect. This single setting takes care of much of the issues, but this setting isn't
yet
controllable on a per-display basis that is persistent across sessions (though based upon this week's vUDS sessions, it looks like that support is coming). This UI scale setting also didn't do any good for Mozilla Thunderbird or Firefox where the output was still too tiny; there is a
layout.css.devPixelsPerPx
setting that helps out somewhat, but Firefox/Thunderbird end up looking ugly with non-SVG icons and some text strings scaling differently.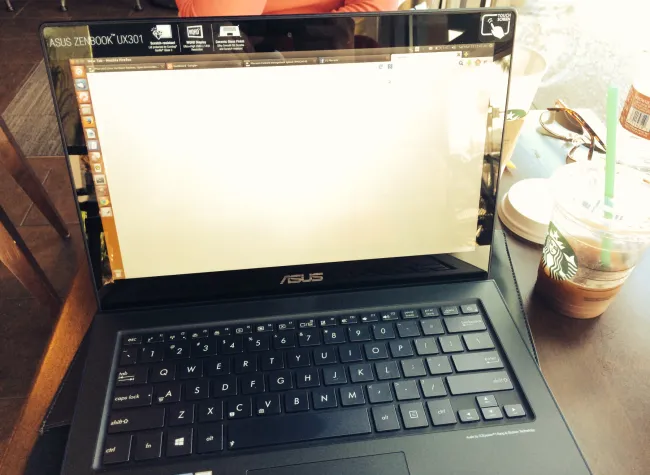 Fortunately, at least this configuration is to the point of not causing headaches due to eyestrain and the desktop is usable and I'm back up to full productivity. In the coming days I'll write up my thoughts more at length after I've had additional time with the system. I'll also look into recording a video to more closely show off the Ubuntu HiDPI successes and issues for those that haven't yet experienced such beautiful displays.