X.Org Foundation 2014 Elections Now Underway
The X.Org Foundation Board of Directors 2014 elections are now underway and should be less than contentious assuming enough votes have been casted.
This year's X.Org Foundation Board of Directors elections is to elect four X.Org stakeholders to two year terms on the board, as usual. After the nomination period,
there were four nominees for the four seats
. The earlier article covered the specifics but the nominees were Alex Deucher, Matt Dew, Egbert Eich, and Keith Packard. With four seats up for grabs by four people, it's really not exciting but it's just important to mention it so that the X.Org members do their duty and cast their votes. In some years the election results have barely gotten by as valid with not enough members casting votes: the by-laws require a 25% quorum on these votes.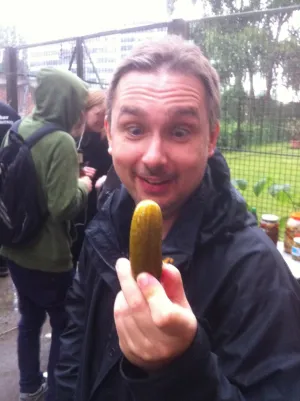 X.Org Foundation BoD nominee Egbert Eich at LinuxTag enjoying a pickle.
All four nominees have previously served on the X.Org BoD so there's likely to be no major shake-up this year. Among the matters they'll face this year with the four existing directors are
the usual stuff
plus
the possible merger with SPI
. In terms of the annual X.Org event, this year
XDC2014 is in Bordeaux France
and will take place in October.

XDC2012 Shenanigans with Keith Packard, another nominee.
X.Org members can find the 2014 voting information via
the X.Org Wiki
.