The New "PTS Desktop Live" Is Coming Soon
For new readers to Phoronix.com and/or new users of the
Phoronix Test Suite
might not be familiar with
PTS Desktop Live
, our Linux distribution used for benchmarking that provides a fully-standardized software stack. This Linux benchmarking operating system will soon see a new major release.
Going back five years we have had
the PTS Desktop Live Linux distribution
as a means of having a fully-standardized Linux OS that can be booted from a USB/DVD drive and locally has a number of our open-source benchmarks setup and ready to be executed. While the
Phoronix Test Suite
can be deployed on nearly any Linux distribution (every reasonable Linux distro I've tested is compatible), the benefit of PTS Desktop Live for a certain segment of users is that it provides a fully-standardized stack: the same kernel, the same drivers, and the same configuration. This makes the software handling trivial so when wishing to run some benchmarks to compare against your friends, colleagues, or other professional setups, any software differences can be easily and quickly ruled out. With having a live Linux distribution where everything is pre-configured, it's also incredibly easy to get going in the open-source benchmarking experience.
This standardized OS that can be booted from a USB key also goes very well with
OpenBenchmarking.org
where anyone can share their test results, system data, etc. With having it totally streamlined for uploading/downloading and collaborating over the results, PTS Desktop Live is a powerful component to our open-source automated benchmarking stack.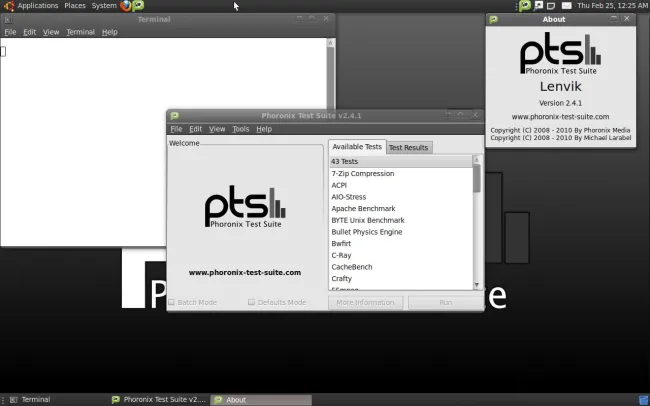 The old PTS Desktop Live 2010.1-Anzhofen release with the former PTS GTK2 GUI.
This Linux distribution was
updated through 2010
and then I was working on an
OpenBenchmarking.org Live
, but it hasn't seen a new release in a few years. The main blocker to the new release was the retirement of the Phoronix Test Suite GTK2 GUI and my continued business with handling everything. However, with
Phoronix Test Suite 5.0
that's coming out soon there's now an HTML5-based GUI.
While I've mentioned it elsewhere, I'm pleased to say with Phoronix Test Suite 5.0 there will finally be the return of "PTS Desktop Live" as a standard Linux distribution for quickly and easily being able to carry out repeatable benchmarks. I've begun working on the new version of the Linux distribution while still finishing up a lot of the new user-interface for Phoronix Test Suite 5.0.

The new interface (in its current development form) coming with Phoronix Test Suite 5.0.
Those unfamiliar with the Phoronix Test Suite 5.0-Plavsk development activities can find out more information via easily run Linux benchmarks from your phone (videos included) and a very early walk-through of Phoronix Test Suite 5.0, among other Phoronix articles.

Being HTML5-based, the new interface will allow for remote access support to servers and other head-less systems and offerup new capabilities.
In the past PTS Desktop Live was based upon the Ubuntu Linux package-set. At the moment in my new work I'm currently investigating the feasibility of basing it upon Fedora but otherwise Ubuntu will be used as the basis. Like with the earlier versions, upgrades to the mainline kernel and other configuration changes will be made for offering maximum performance and the most bleeding-edge Linux experience and hardware support. My goal will to be ultimately updating the distribution quarterly with the quarterly Phoronix Test Suite major releases if not managing a monthly update schedule to the kernel, Mesa, compilers, and other components. It's still to be determined whether the future releases of this benchmarking Linux distribution will be called "PTS Desktop Live" or be renamed to something else.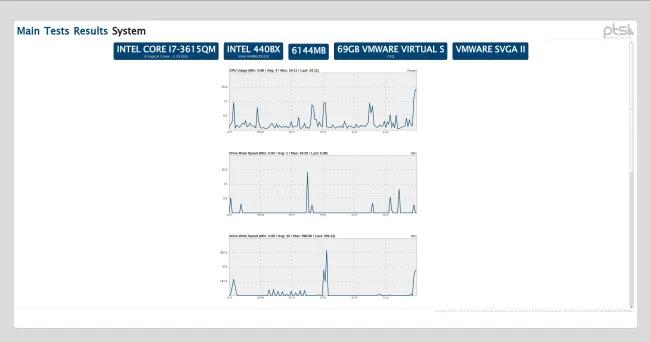 The new interface is updated in real-time, starts work on a Phoronix Test Suite WebSockets protocol, and will be home to many other features... But your support is appreciated in making this new version become a striking success.
Mentioning all of this information right now prior to the release comes down to several reasons: (1.) If you have any feedback or feature requests for modern versions of this standardized Linux benchmarking distribution please let us know. (2.) If you have any commercial interest in using this benchmarking Linux environment for hardware validation, burn-in, or hardware comparison purposes and wish to support it or require custom engineering, please let us know. (3.) If you have any ideas and wish to become involved with the development of this open-source Linux distribution or the
Phoronix Test Suite
, please let us know. We're also
now on GitHub
for those wishing to checkout the client code and lend a hand to the leading Linux benchmarking software (that's also supported by BSD, OS X, Windows, and Solaris too!). (4.) If you're able to help out with any mirroring or hosting of the distribution ISOs as you have extra bandwidth, please let us know, or are interested in helping out the free Linux distribution in any other form.
Phoronix Test Suite 5.0 will be officially released in March or potentially April of this year but is already out in development form. For more information stop by
Phoronix-Test-Suite.com
and
OpenBenchmarking.org
.