Phoronix Test Suite 5.2-Khanino Milestone 1
The first development release of Phoronix Test Suite 5.2-Khanino is now available for your early open-source Linux / BSD / Windows / Solaris benchmarking needs.
One month after
the Phoronix Test Suite 5.0.1 point release
is now the initial development build of PTS 5.2-Khanino. This latest build has some improvements over the previous quarter's stable release.
The most notable work going on with Phoronix Test Suite 5.2 is the porting of
Phoromatic
to the modern PTS interfaces. With Phoronix Test Suite 5.2 it's possible to launch a local Phoromatic server instance via simply running
phoronix-test-suite start-phoromatic-server
and from there it will self-host all of its needs (with the only possible new requirement being PHP5 SQLite support). However, for today's first milestone release the support isn't quite in shape. The web interface is very different from the former Phoromatic code and I'm still porting the code to work with the new interfaces.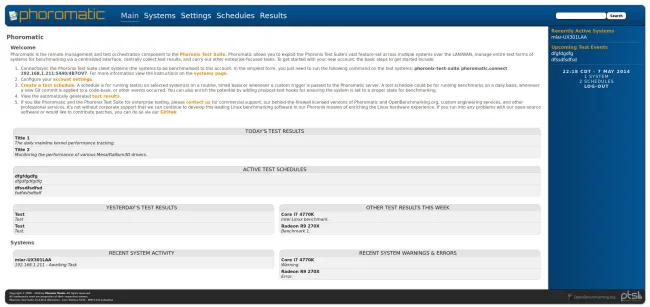 The new Phoromatic code with PTS 5.2m1 will work with for setting up systems and basic scheduling but isn't yet functional. Hopefully in the next week will have all of the code fully-functional against the latest PTS interfaces. Ideally there won't be any API or database schema breaks but I am not making any guarantees prior to the official 5.2.0 release. For organizations needing to host their results "behind the firewall" and outside of the
OpenBenchmarking.org
spectrum that will still require a commercial support license via the Phoronix Test Suite.
Besides the ongoing Phoromatic porting to support a self-hosting server from the Phoronix Test Suite client, other changes include various fixes, better support for outside environment variables, support for a range of test inputs to be supported, batch-run fixes, improvements for NVIDIA GPU core frequency detection on modern GPUs, and GPU usage reporting via the optional
radeontop
binary.
Stay tuned for more Phoronix Test Suite 5.2-Khanino updates in the next few days. For those in need of any commercial support, custom engineering needs, or other purposes,
contact us
. The new Phoronix Test Suite 5.2 development release can be downloaded at
Phoronix-Test-Suite.com
.