Time For Feedback On A New Phoronix Design
Last summer we were working towards a new version of our in-house content management system and
a brand new site layout
developed by a German Phoronix reader. Due to mixed reactions that proposed layout wasn't launched, but work has been underway on a new version of Phoronix.com.
For those not following
@MichaelLarabel on Twitter
, this weekend I've started sharing some work-in-progress screenshots of a new design and more improvements to our underlying PHXCMS content management system. This new design isn't as much of a departure from our current design compared to what was shown last summer, but there's a refreshed color palette, it's a bit more mobile friendly (but still a proper mobile version of the site is on my long TODO list), and there's some other enhancements made.
While still very much a work-in-progress, embedded below are the latest screenshots as of Sunday afternoon as I call for a more diverse round of feedback on the new design. Your feedback is appreciated via
the comments in the forums
or by contacting me. Thanks!
UPDATE:
For those in favor of the current green color scheme, here's the latest prototype: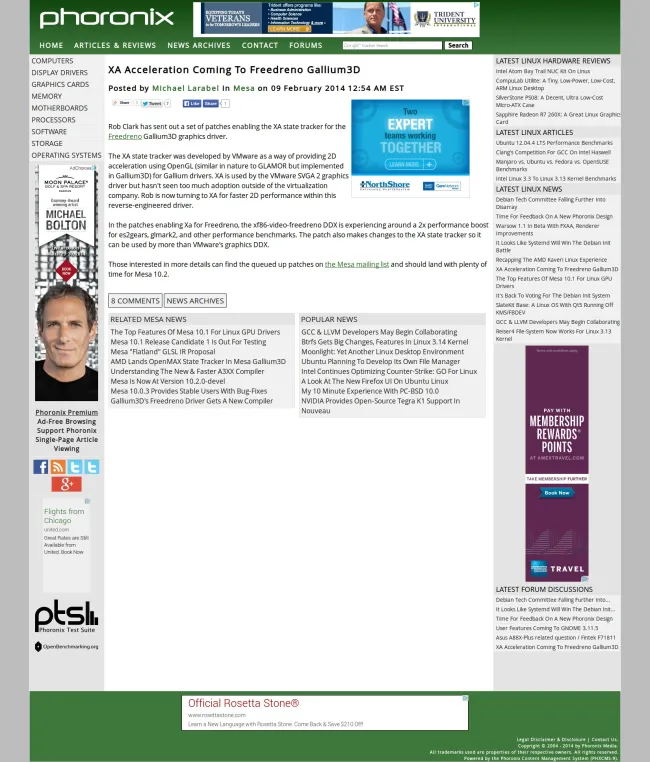 A new site layout is certainly warranted with Phoronix.com turning ten years old this June! Thanks again for any feedback on this latest layout.