PTS 4.4.1 Arrives, Benchmark Windows 8 vs. Ubuntu
Succeeding last month's release of
Phoronix Test Suite 4.4
, the first point release to "
Forsand
" has been made available. There's minor improvements and fixes throughout along with some notable work on the Microsoft Windows side.
Originally plans weren't made for a 4.4.1 release since the 4.4.0-Forsand release went off without a hitch, but over the past two weeks I've made a number of other minor enhancements and then most recently have been working on some Microsoft Windows 8 performance tests. Having recently purchased an ASUS Ultrabook with Intel Ivy Bridge processor for a new round of Windows vs. Linux benchmarks, some Phoronix Test Suite improvements are being made in the process.
With the Phoronix Test Suite 4.4.1 release, there are minor Windows fixes and enhancements. None of it should be explicit to Windows 8 but will likely benefit Windows 7 x64 users too. As usual, the Phoronix Test Suite on Windows isn't dependent upon Cygwin or MinGW or other POSIX/Linux portability layers, but not all of the features found when running PTS on Linux, BSD, or OS X can be found with the current Windows port. However, all core Phoronix Test Suite client functionality is the same with regard to fully-automated, reproducible test installation, execution, and reporting in a streamlined manner.
Not all of the Linux / OS X / BSD / Solaris benchmarks for the Phoronix Test Suite found hosted on
OpenBenchmarking.org
are available through this rudimentary Windows version. However, additional test profiles can be made compatible with Microsoft Windows through commercial engine and custom services offered by
PTS Commercial
. Please contact us about sponsoring the development, engaging in "behind the firewall" OpenBenchmarking.org / Phoromatic installations, custom feature development, and other services.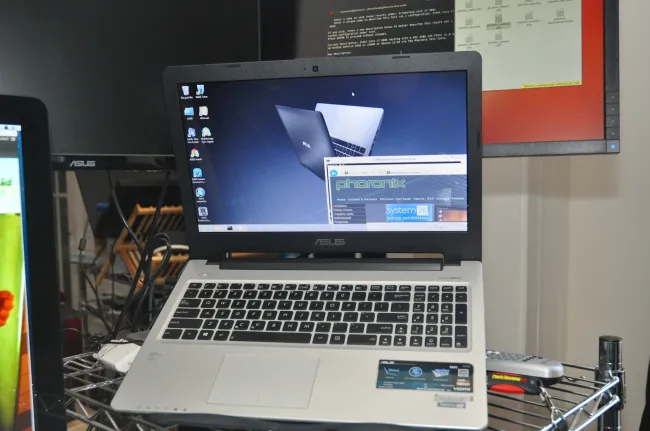 Aside from improved Windows support, other Phoronix Test Suite 4.4.1 work includes some changes to ARM dependency checking, a
SKIP_ALL_TEST_SUPPORT_CHECKS
environment variable, updates for the new
openSUSE 12.3
release, and more work within the Phoronix Device Interface (Phodevi) library. Phodevi work for 4.4.1 includes being able to detect the Razor-qt desktop environment, Catalyst driver changes, detecting unloaded X.Org Server DDX modules, and improved Linux memory RAM type detection.
The latest release of the open-source Phoronix Test Suite automated benchmarking software for all major operating systems can be found at
Phoronix-Test-Suite.com
. The next major release due out is Phoronix Test Suite 4.6, codenamed
Utsira
, and will be made available in Q2'2013.
And yes, new Windows vs. Linux performance benchmarks will be published on Phoronix.com in the near future... For staying tuned to the Windows testing experience,
follow @MichaelLarabel on Twitter
where I have been sharing my thoughts on this ASUS Ultrabook when running Windows and Linux while also answering Phoronix Test Suite benchmarking related questions.