Benchmarking The Google Nexus With Ubuntu
Tests are running full-speed this weekend on benchmarking the performance of the brand new
Ubuntu Touch/Tablet Developer Preview
with the Google Nexus 7 and Nexus 10 devices. Here's a preview with some initial findings from performance testing these mobile ARM devices using Ubuntu Linux.
Within
Ubuntu Touch/Tablet Is Using SurfaceFlinger
on launch-day I already shared some initial facts about this mobile Ubuntu platform that's actually powered by Google's Android / CyanogenMod. I also shared
My Favorite Command For Ubuntu Touch/Tablet
. This mobile Ubuntu flavor basically has the Ubuntu user-land running within a chroot, so the command is basically entering this Ubuntu environment outside of Android and then being in a conventional Ubuntu environment. From this area is where the tests are being done.
A variety of computational benchmarks are being done from a Google Nexus 7 (NVIDIA Tegra 3 Quad-Core Cortex-A9) and Google Nexus 10 (Samsung Exynos 5 Dual Dual-Core Cortex-A15). With Ubuntu Touch using Google's SurfaceFlinger and not using an X11/X.Org Server (or Wayland), the usual Ubuntu graphics benchmarks won't work. Plus the hardware/drivers are limited to OpenGL ES 2.0 anyways and there's not too many incredibly interesting OpenGL ES performance benchmarks at this time.
A few disk benchmarks are being tried on these ARM tablets but that's not too interesting either with limited flash storage capacities and not the ideal use-case for a tablet. Most of the Linux computational benchmarks being done are looking at audio/video encoding, compilation, and a variety of other workloads. ARM SoCs have
proved interesting for building super-computers
due to their low power budgets, cost effectiveness, and the performance becoming more competitive to x86 hardware.
With the Nexus 7 and Nexus 10 tablets I purchased this week for the Ubuntu testing, at the moment the hardware being benchmarked against it for comparison include the very common
PandaBoard ES
featuring a Texas Instruments OMAP4460 dual-core ARM Cortex-A9 SoC, a
Trim-Slice NVIDIA Tegra 2
dual-core Cortex-A9 "nettop", the
NVIDIA Tegra 3 Cardhu tablet
(quad-core Cortex-A9; effectively the same as the Nexus 7), and the
Samsung Series 5 Chromebook
(Exynos 5 Dual Cortex-A15; effectively the same as the Nexus 10). These other ARM comparison platforms are being loaded up with Ubuntu 13.04 snapshots too, so the packages are close but obvious kernel differences due to the fragmented ARM Linux world.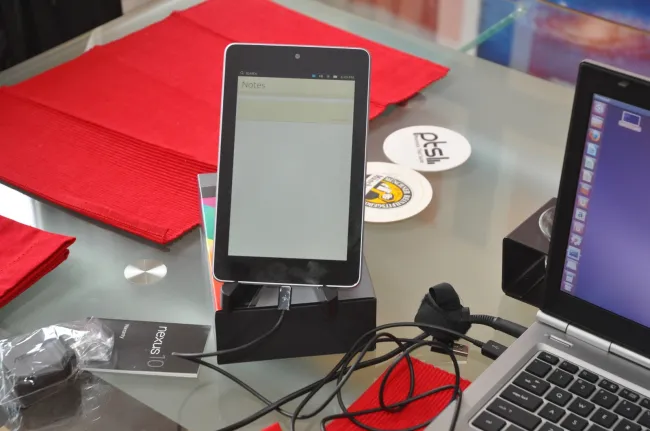 I'll also likely benchmark some different Intel/AMD x86 systems too for some additional data points showing how well these Ubuntu ARM systems are performing on a modern Linux stack.
There have also been
requests for benchmarks of the Google Nexus 4
by many Phoronix readers via
Twitter
, e-mail, and
the forums
.
If you are interested
in seeing Nexus 4 benchmarks too or other ARM hardware thrown into the mix, please consider
subscribing to Phoronix Premium
or
making a PayPal tip
. This current benchmarking has already been going on since the Thursday release of Ubuntu Touch and will still be happening for several days. I already purchased the Nexus 7 and Nexus 10, so benchmarks of the Nexus 4 will depend upon interest level and (ad-enabled) views of these benchmarks to be able to justify additionally buying a Google Nexus 4 ($300+ USD) and the time to spend several more days coming up with these benchmarks. I do agree though, benchmarks of the Nexus 4 with the usual horde of Linux benchmarks from the Qualcomm Snapdragon S4 Pro APQ8064 would be very interesting! The S4 Pro is a Quad-Core Qualcomm Krait and would be very interesting to see how this SoC compares to the other ARM/x86 competitors.
One of the interesting traits to also look at whenever running our compute-intensive benchmarks on the ARM hardware in a consumer package is the thermal performance. I've killed ARM-based NAS (Network Attached Storage) devices and
killed smart-phones due to overheating
by pegging the SoC too much with heavy workloads. The Nexus 7 and Nexus 10 device testing has gone alright in conjunction with my vigorous Linux benchmarking powered by the
Phoronix Test Suite
.
Both tablets have become rather hot
when running some of the more demanding multi-threaded Linux benchmarks. However, I have yet to experience any serious problems as a result. The temperature was a bit uncomfortable to the point of moving the Nexus devices nearby a drafty window in the cold Chicago winter as a precaution. (Fortunately, with the Ubuntu chroot it's easy to install the OpenSSH server and be remoting into these devices from elsewhere.)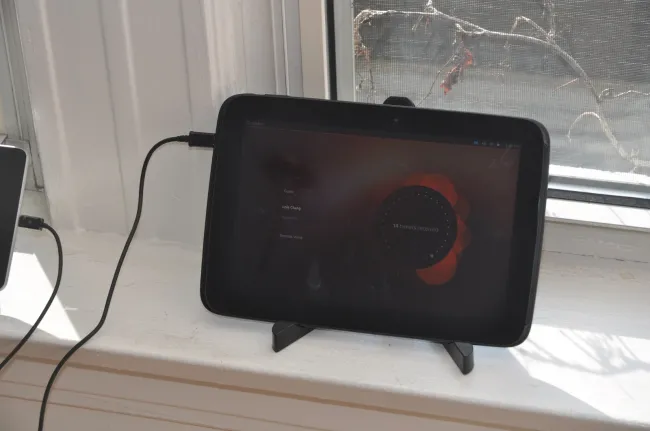 With both the Nexus 7 and Nexus 10 I have also encountered
the WiFi adapters no longer communicating
with the network after hours of strenuous tests. However, I have yet to determine the cause of these network problems if it's thermal related, a software bug after Ubuntu Touch is used extensively, or some other issue coming to play. After rebooting the devices, the wireless support came back up on both devices.
Another issue
I have encountered is with the battery / power source on the Nexus 10. During this testing, both Google tablets are using the respective USB-based power adapters included with the tablets and they are connected to an AC power source (not leaching off any system's USB). With the Nexus 7 everything is running smoothly, but with the Nexus 10 being fully-charged and running off its AC power adapter, eventually the battery will be depleted even when connected to its power source the entire time. Some of these open-source benchmarks end up pushing the hardware over its power capacity for the charger. At least turning off the tablet's display during benchmarking does help from completely draining the battery during the many hours of continuous testing.
For those wanting the benchmark results, stay tuned for multi-page articles (unless of course, you're
subscribing to Phoronix Premium
for single-page ad-free viewing) next week with all of the data. For those wanting some early metrics, on
OpenBenchmarking.org
is early results for the Nexus 10 (Samsung Exynos 5) within the
1302235-FO-EXYNOS5DU96
result file. You can compare directly these Ubuntu Nexus figures to your own Linux x86/ARM/SPARC/MIPS system by having the
Phoronix Test Suite
installed and simply execute
phoronix-test-suite benchmark 1302235-FO-EXYNOS5DU96
. Within
1302232-FO-GOOGLENEX51
are more test results, but in this round some of the most demanding scientific benchmarks that are publicly available for this hardware.
Stay tuned for more information next week. Random updates on this Ubuntu ARM performance testing expedition are also shared via
@MichaelLarabel on Twitter
. Any additional test requests or suggestions can be sent to Twitter,
email me
, or
the forums
.