We Rely On Your Support: This site is primarily supported by advertisements.

Ads are what have allowed this site to be maintained for the past 16 years.

We do our best to ensure only clean, relevant ads are shown, when any nasty ads are detected, we work to remove them ASAP. If you would like to view the site without ads while still supporting our work, please consider our ad-free Phoronix Premium. You can also consider a tip via PayPal.
Intel Winning Over NVIDIA For Linux Enthusiasts
It seems that among Linux enthusiasts, Intel is gaining market-share thanks to their increasingly powerful integrated graphics backed by a fully open-source driver while NVIDIA is losing ground.
We already know that
NVIDIA lost a huge GPU order due to their closed-source Linux driver
and unwillingness to port the binary blob to a new architecture (MIPS), which cost them hundreds of millions of dollars, but it seems that amongst enthusiasts and skilled Linux users that NVIDIA's market-share is decreasing.
Now for the third month in a row, the automated statistics on
OpenBenchmarking.org
that are collected by users of the
Phoronix Test Suite
software, indicate that Intel has a measurable lead in adoption over NVIDIA on Linux.
The past three months is the first time in at least a year that Intel's integrated graphics have been reportedly more common than NVIDIA's GPUs that have traditionally been most popular on Linux due to their closed-source but high-quality and reliable driver.
These OpenBenchmarking.org statistics aren't representative of the Linux desktop community as a whole, but tend to be more enthusiast and corporate oriented. It's the enthusiast/corporate/gamer types that are typically installing the Phoronix Test Suite to measure their Linux system(s) performance, many of whom do so when purchasing brand new hardware or considering an upgrade and deciding what component(s) to change. It's also the type of individuals that are generally knowledgeable about the different Linux graphics driver options with their pros and cons. For the overall market, Intel does have a large market-share in the graphics world due to their integrated graphics being quite common to OEM systems.
As Intel gains ground, the biggest loser is NVIDIA while the ATI/AMD graphics adoption appears stable based upon the OpenBenchmarking.org statistics.
For those curious about the most popular graphics card models specifically, see
the OpenBenchmarking.org GPU page
for a cloud as well as some of the most popular graphics processor benchmarks on the site -- either provided by Phoronix or the community.
Similarly, for those curious about additional details as it pertains to the most popular Linux graphics drivers, see the
OpenBenchmarking.org display driver page
and
OpenBenchmarking.org OpenGL page
.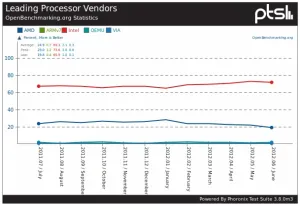 When it comes to Intel's processor market-share,
the OpenBenchmarking.org CPU page
doesn't indicate any real change in recent months, but just appear to be gaining when it comes to customers using the integrated graphics rather than a discrete graphics card. Intel is still winning on the CPU front over AMD, ARM, and VIA.
Seeing Intel gain market-share on Linux for their graphics isn't too surprising. Sandy Bridge ended up being rather nice for lower-end graphics once the initial Linux driver bugs were worked out, Ivy Bridge was excellent from the gate (see
the Intel Ivy Bridge two-month redux
) and is more competitive against the mid-range discrete GPUs (especially when those GPUs are using their respective Gallium3D drivers), and the open-source Linux graphics driver continues advancing. Moving forward with
Haswell
and
Valley View
, Intel is only getting better.
Besides continuing to invest in their open-source Linux graphics driver with improvements each cycle for Mesa and the Linux kernel, they also continue to
promptly publish new hardware documentation
and are
continuing to invest heavily in Wayland
.
NVIDIA meanwhile has had some Linux challenges as of lately, namely over not supporting
Optimus technology
under Linux. Linus Torvalds even called
NVIDIA the worst company
while
their PR department continued to fail
.
It will be interesting to see how these OpenBenchmarking.org numbers vary over the coming months.