Fedora's Hot Dog Marketing Strategy
With
Fedora 17
having the codename of
the Beefy Miracle
, this week at
LinuxTag in Berlin
they're luring in new users with hot dogs. Meanwhile, the German-based openSUSE project continues to attract new followers with their beer.
If Fedora's "Beefy Miracle" code-name didn't seem to go overboard when Canonical's Jono Bacon
dressed up as a hot dog
during the Ubuntu Developer Summit last October, the play on Fedora's unique but awkward codename has continued here in Berlin, Germany.
On the expo floor, positioned next to the Fedora Project booth is a hot dog stand. Hot dogs are being sold while Fedora contributors have also been handing out some coupons for free hot dogs.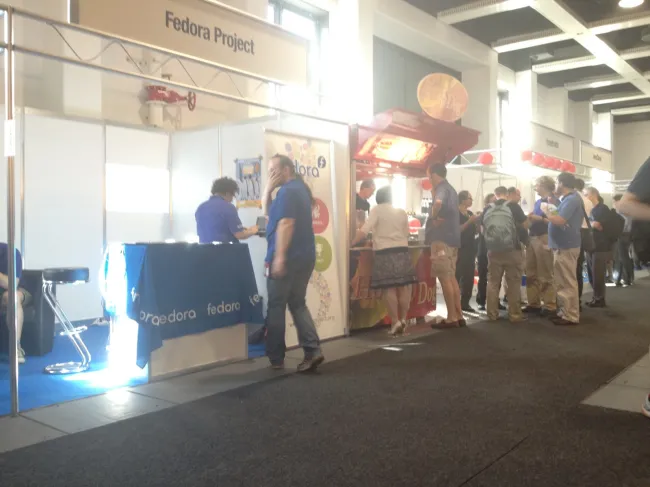 Fedora hot dogs seem to be a hit...
The quality of the hot dogs though aren't particularly exciting... Though it seems that at Linux conferences, luring end-users and developers alike don't require "booth babes" even, just food and alcohol.
On the opposite side of the Fedora booth is the CentOS stand and next to that is... openSUSE.
openSUSE continues to be in the beer business
with their own custom-labelled "Old Toad" beer for the originally German Linux distribution.
They're giving out this beer from Franconia at their booth. If you do enjoy this beer though, be sure to make a donation to LinuxTag (they have a collection box not too far away from the beer box).
Sadly they haven't ventured into any openSUSE beers yet aside from pils, but regardless it is nice to have. Unfortunately, it's served rather warm. For reference, the Ubuntu booth at LinuxTag 2012 doesn't have any
cooked Quetzals
or other items. Though on Saturday there is Ubuntu sponsoring a party, but that again might end up being
Ubuntu pickles
.
Stay tuned for the rest of the Linux news this week at LinuxTag from the Berlin Messe on Phoronix and
via Twitter
. I'll be at LinuxTag the rest of the week for those looking to find me.
For those that missed it,
Fedora 18
will be
codenamed the Spherical Cow
and will be another interesting release with
controversial work
and
other features
.
There was also the Fedora 17 Final Go/No-Go meeting today and it was approved that the Beefy Miracle is in a state to ship... Fedora 17 will be released next week on Tuesday, 29 May.