Who's Leading The Development Of Mono
Here's some new statistics considering the development of the controversial Mono open-source ECMA CLI, C# and .NET implementation.
When running GitStats on the Mono Git repository this week, there's some interesting numbers and charts to look at:
- The Git history goes back to 8 June of 2001. Over the past 4,107 days the Mono repository has been built up to 44,833 files that amount to 8,861,434 lines of code. The 8.8 million lines of code for Mono came across 90.410 commits, or about 22 commits per day spread across the past eleven years. 463 developers have committed to the Mono code-base.
- The development pace though of Mono is slowing down a bit, but that might just be in step with its continued maturity. So far in 2012 there's been 2,124 commits compared to 3,789 commits in 2011 and there being over seven thousand commits each in 2009 and 2010 while 2008 saw over ten thousand commits. In 2004 and 2005 there were 12k and 11k commits, respectively.
- While Miguel de Icaza's name is synonymous with Mono with the GNOME creator leading the project, he's no longer the most prolific contributor. Zoltan Varga, a Mono developer since 2002 and former Nokia engineer, takes the cake for the most commits -- totally 8,966 as of this week. Miguel meanwhile has 6,594 commits and Atsushi Eno has 6,286 commits.
- Mono's file count continues to rise...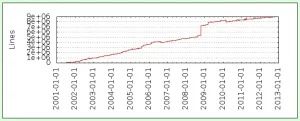 - Mono has turned into a huge free software project with more than 8.8 million lines of code checked into its repository.