We Rely On Your Support: Have you heard of Phoronix Premium? It's what complements advertisements on this site for our premium ad-free service. For as little as $3 USD per month, you can help support our site while the funds generated allow us to keep doing Linux hardware reviews, performance benchmarking, maintain our community forums, and much more. You can also consider a tip via PayPal.
Here Is Valve's Source Engine Left 4 Dead 2 On Linux
Valve's
SIGGRAPH 2012
presentation last night -- about
the Source Engine on Linux
and their experiences with maximizing the OpenGL performance of their game engine on Linux -- was a success.
More details about the presentation will be available in the coming days, including the slides. However, for those overly-excited, here's a few photos from the Valve Linux presentation in Los Angeles. There's also a photo of Left 4 Dead 2 on Linux, although it's not too clear and doesn't show (Ubuntu) Linux in the background with
my photos from April
when at Valve HQ being much more clear.
Left 4 Dead 2 on the Source Engine running natively under Linux with OpenGL is
faster than on Windows
when both the Direct3D and OpenGL renderers are tested there.
With the performance now being maxed out and the Linux graphics driver support moving along, I would expect to see the Left 4 Dead 2 Linux beta to surface in the very near future. The support is now in rather good standing for some sort of beta (though how open it will be remains to be seen) and originally the target that was estimated back in April when I was at Valve HQ was that they might be able to ship something around July. With Valve time factored in, we should see something soon -- also leading to my previous comments months ago about safely seeing something before my "annual pilgrimage", which most faithful Phoronix readers know what that means (hint: think dirndls, bretzn and bier!). Valve has already publicly stated that
L4D2 will be delivered this year
.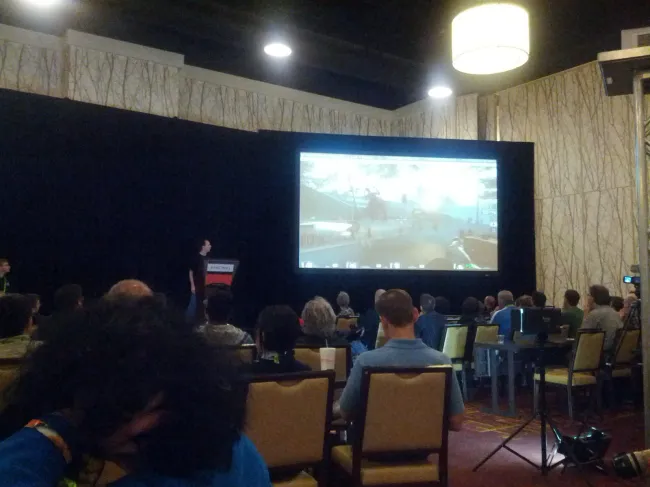 Thanks go out to Jeroen Baert, the Phoronix reader that sent in these SIGGRAPH photos. The slide deck for the presentation should be published soon.