We Rely On Your Support: Did you know that the hundreds of articles written on Phoronix each month are mostly authored by one individual working insane hours? Phoronix.com doesn't have a whole news room with unlimited resources and relies upon people reading our content without blocking ads and alternatively by people subscribing to Phoronix Premium for our ad-free service with other extra features. You can also consider a tip via PayPal.
A Low-Cost USB 3.0 2.5-Inch Disk Enclosure That Works Fine With Linux
If you are looking for a low-cost 2.5-inch disk enclosure that plays fine under Linux, here's one I recently picked up and has been working fine.
The wife wanted another disk enclosure for backing up some of her work and what I ended up going for was the
Inateck 2.5 Inch USB 3.0 Hard Drive Disk HDD External Enclosure
.
This Inateck disk enclosure will work fine with 2.5-inch HDDs and SSDs, is completely tool-free, has a built-in on/off switch, and fulfills its duties as a disk enclosure. This was the first time I've used anything branded Inateck.
At Amazon (link above) the disk enclosure costs just $12.99 USD. The enclosure is made of ABS plastic, but doesn't feel flimsy at all, is very easy to work with, and is indeed tool-free. While it's durable, I don't know that I'd go with this enclosure if I were to be carrying it around everywhere within a laptop bag.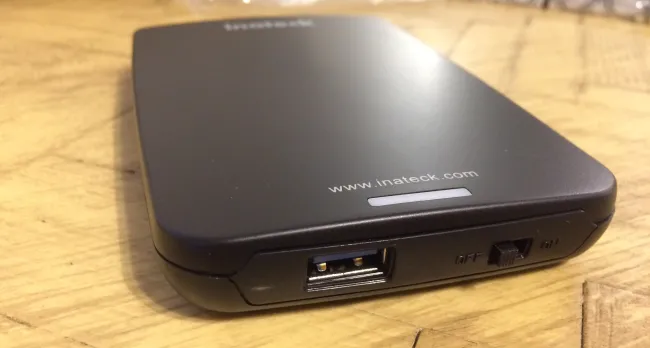 The product listing just shows the operating system support as "Windows 2000/Windows Me/Windows 98/ XP /Vista/ 7/ 8, Mac OS 9.1/10.8.4 above", but it's been working out fine on the Ubuntu and Fedora systems we've tried thus far.
Inside the Inateck 2.5-inch USB 3.0 enclosure I installed the
Seagate 500GB 7200RPM laptop hard drive
. With being a hard drive, it's difficult to see just how well the enclosure performs for USB 3.0 speeds compared to a high-performance SSD, but the performance from my usage thus far seems to put it right on par with all of the other basic USB 3 enclosures I've tested thus far. The Seagate ST500LM021 is SATA 3.0 compliant, spins at 7200RPM, and has a 32MB cache while costing just $44 USD.
Thus all in for this 500GB of external USB 3.0 storage is just ~$56 and the enclosure works fine with Linux. Just wanted to pass along this budget enclosure recommendation in case others are looking for a Linux-friendly disk enclosure. If anyone has any other questions about it or this Seagate HDD, feel free to bring it up by commenting on this article in the forums. You can find the enclosure
at Amazon.com
.