Our LinuxBenchmarking.com Daily Performance Tracker Turns One Year Old
It was one year ago today that the first systems were commissioned and producing results for our daily performance tracking efforts for showcasing different possibilities with
Phoromatic
and the
Phoronix Test Suite
.
On 28 November 2014 is when the first systems were started in the original daily performance trackers for
LinuxBenchmarking.com
. That was with the latest-generation Phoronix Test Suite and Phoromatic where as back around 2009 is when there was the earlier
Phoromatic Tracker
effort on a smaller scale and not nearly as feature-rich as our open-source benchmarking framework and test orchestration software is today.
Last year at the time the cluster of daily performance tracking systems looked like: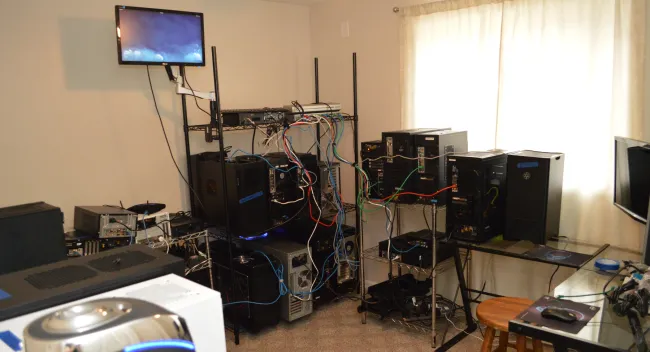 Then earlier this year was
turning the basement into a Linux server room
thanks to Phoronix Test Suite commercial customers.
And then
the six month redux
while
more tweaks since then
for continuing to maximize the efficiency of the setup. At least now in the winter, all of this daily benchmarking is
enough to heat the house
!
Since then, many more systems have been added for producing daily performance tracking results, etc. So if going over to LinuxBenchmarking.com and pulling up all the results on trackers like
Ubuntu mainline kernel tests
are results going back a year, albeit except for the days where there's been kernel problems and such -- as is currently the case with the Ubuntu Mainline Kernel archive as outlined earlier today in
Contemplating A New, Public Linux Daily Kernel Build Server For Ubuntu/Fedora
in working toward an alternate solution. Some of the other performance trackers meanwhile were just started earlier this year.
There will be more announcements shortly, so stay tuned for more interesting tests! Phoronix Test Suite 6.2 is also now under development as the latest version of our cross-platform, open-source benchmarking software for release in early 2016. More Phoromatic improvements are coming to that release too for better management of clusters of test systems. The new
OpenBenchmarking.org
is also being worked on for introduction now in early 2016.