We Rely On Your Support: Did you know that the hundreds of articles written on Phoronix each month are mostly authored by one individual working insane hours? Phoronix.com doesn't have a whole news room with unlimited resources and relies upon people reading our content without blocking ads and alternatively by people subscribing to Phoronix Premium for our ad-free service with other extra features. You can also consider a tip via PayPal.
The New Open-Source Linux Test Farm Is Almost Operational
Here's another update on the construction of
the new Linux benchmarking test farm
.
See the aforelinked article for more of the back-story and links to the other updates. Long story short, this new environment for conducting automated Linux benchmarking is almost ready... Likely tomorrow the first of the servers will have transitioned into the new environment that's much better cooled, has three times greater power capacity, is much easier to maintain, and much more organized than the previous environment for the
LinuxBenchmarking.com
farm that showcases the
Phoronix Test Suite
,
OpenBenchmarking.org
, and
Phoromatic
.
Since the previous update, I finished up painting, laying the floors, and nearly done with all of the molding, for the main build tasks at hand. I've been doing the construction work due to enjoying it, keeping costs to a minimum, and have long been doing construction work even before the Phoronix days more than a decade ago.
The two initial StarTech 42U server racks have been assembled, I'm still in the process of moving
my favorite glass desks
there for those that are needed to support the server farm, and some other furniture also moved into place.
I've had a VGA projector laying around for a few years so wired up HDMI through the ceiling to the walls for showcasing the Phoromatic dashboard on a large display. This can also be used for showcasing Phoromatic / Phoronix Test Suite changes in YouTube video walkthroughs or when clients/vendors are visiting. There's also chairs and table down there for when working on Phoromatic / PTS code or when meeting with any visting hardware vendors for Phoronix or Phoronix Test Suite enterprise/commercial customers.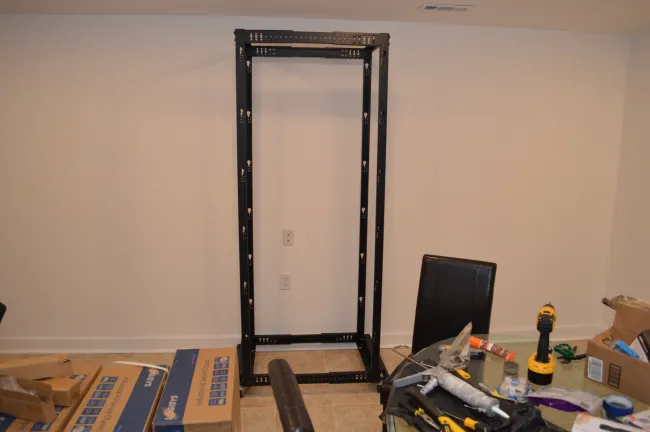 More information on these StarTech 42U racks will come in a future Phoronix review.
So far things are coming together nicely and the initial power-on of the first batch of systems will hopefully happen tomorrow.
There's many
low-cost server cases
I'm currently evaluating and building out for these initial racks.
Stay tuned for another update this weekend and there will be a full article and video walkthrough when everything is all setup in the next week or so. This is a big change to
where the work initially started
.