You May Want To Think Twice About Trying Linux 4.7 Git Right Now
Since yesterday all 12+ of my systems running daily mainline Linux kernel benchmarks have failed to boot when using
Linux 4.7
Git.
Yesterday morning (25 May) was when I first noticed problems when logging into the
Phoromatic
dashboard and seen all the systems part of my "Ubuntu Daily Linux Kernel Tracker" used for
LinuxBenchmarking.com
and internally were reporting all the systems down... As this mainline daily Git tests are using
the daily Ubuntu mainline kernel packages
, I decided to wait until this morning when knowing a new 4.7 kernel build would be packaged and ready to go before trying to look into the issue.
This morning I hooked up a display to a few of these daily kernel tracking systems riding Linux 4.7 Git and they all were reporting the "ALERT! UUIX=xxx does not exist." error when booting to the Linux 4.7 kernel. If falling back and choosing an older Linux 4.5 or 4.6 kernel from GRUB, each system tried happily went back to booting without any issues or other changes. When those systems then tried to do their automated tests today and install the 26 May Git state from the Ubuntu packages, they failed again and still every time are showing the UUID does not exist, although it should, and if reverting to an older kernel will boot fine.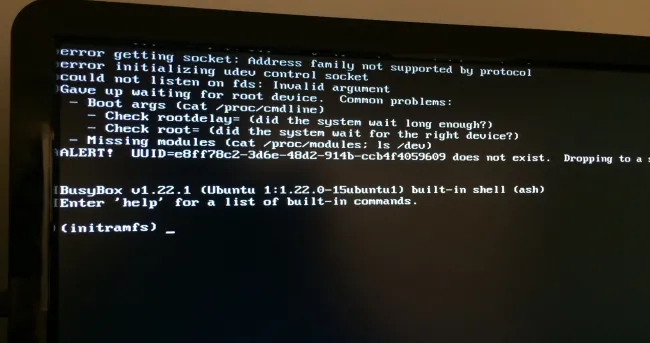 So it looks like a regression happened on the 24th or early hours of the 25th. There was the
EXT4 pull
and other material landing around that time. It's also possible it could be something specific to Ubuntu's mainline kernel packaging.
If you've tried Linux 4.7 Git in the past day, have you encountered any problems? Otherwise just take it as a PSA to avoid testing Linux 4.7 Git for the next brief amount of time unless you want to potentially deal with some headaches. As usual for being crunched on time as it is to unfortunately rule out any further debugging or bisecting, will likely just leave these systems offline for a few days before seeing if they get fixed up on Linux Git shortly, considering the merge window is closing this weekend.