Trying Out The Intel Vulkan Driver With F1 2017 On Linux
With Feral Interactive's port of
F1 2017
to Linux, only Radeon via RADV and NVIDIA are supported for this racing game that's making use of the Vulkan graphics API under Linux. For those curious about if Intel graphics can squeeze by for this game with the open-source "ANV" Intel Vulkan driver, I tried it out.
Following the
Radeon RADV vs. NVIDIA GeForce benchmarks
yesterday and ahead of some larger comparisons and other discrete GPU Linux tests of this game that was released on Thursday, I decided to see how far Intel graphics could drive this popular game.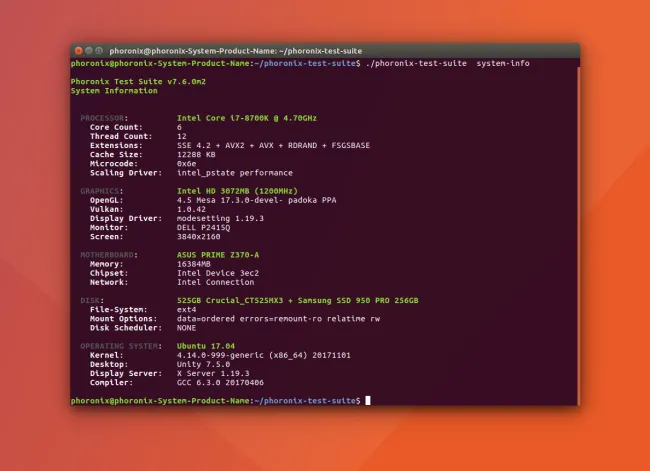 I was using the Core i7 8700K box with the "UHD Graphics 630" while the driver stack was using Linux 4.14 with Mesa Git.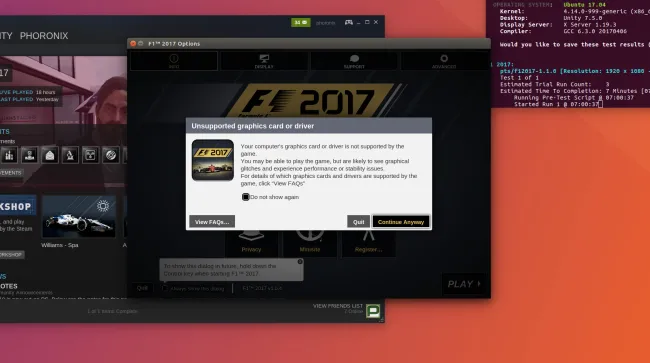 Feral doesn't officially support Intel graphics, but again NVIDIA with a GTX 680 or better or on the Radeon RADV side is officially with GCN 1.2+. So there is the "unsupported" warning that appears right away while I decided to proceed.
At first I was getting excited that the loading screen appeared... but then it kept appearing like it was loading... for a very long time, like a painfully slow shader compilation process.
But then worst fears were confirmed and this game does just seg fault.
So unfortunately it doesn't look like anyone with Intel graphics will be able to enjoy this Vulkan racing game. I tried multiple resolutions and quality settings but they all lead to segmentation faults. Intel graphics aren't the fastest to begin with but even if the ANV driver wouldn't lead to a seg fault, it would likely be painfully slow on all Intel UHD/HD Graphics except for possibly the few Intel chips with Iris Graphics.
Well, now time to see how AMDGPU-PRO Vulkan works (if it does) for this game.