Btrfs Seems To Finally Have Failed Me On A Production System
In the Phoronix server room for our Linux hardware testing and the
LinuxBenchmarking.com
daily performance tracker there are 16 of the 56 systems running Btrfs as their root file-system. While those systems have been chugging along for months and many of them running the latest daily Git kernel, I've finally had one of the systems run into some apparent Btrfs file-system issues.
This weekend when powering back up the many Ubuntu daily kernel test systems now that
the mainline kernel PPA 4.2 builds are finally fixed
after
running into problems the past two weeks
, I noticed one of the systems take a different dive...
When trying to boot a Linux 4.2 kernel known to be working in a good state on this Core i5 520M system, various weird errors occur. On most boots, I hit errors from HID about unknown symbols and HID disagreeing about the version of symbols... Strange, this same kernel build runs fine on the dozen other daily Ubuntu Linux kernel test rigs... After the HID errors or the other odd kernel output occurs, the system just drops down into BusyBox.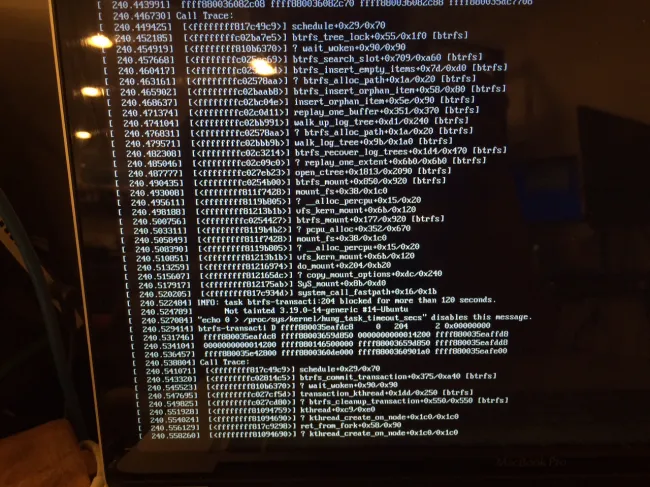 Leading to the belief that the problem is file-system is related is that now no longer
none of the kernels
installed on the system work. All of the other installed kernels on this Ubuntu 15.04 system will just produce Btrfs call traces when trying to boot the system. The Btrfs outputs include on the stock Linux 3.19 kernel, etc. There will be Btrfs traces outputted every few seconds and the system never gets into usable form. Any pre-4.2 kernel just yields Btrfs-related messages while switching back to Linux 4.2 will yield odd HID messages, etc.
As soon as time allows, it looks like next step will be to boot a Live USB distribution and see if running Btrfsck is able to solve the problem... I'm quite surprised seeing these Btrfs messages given that this is just a single-SSD system and not one of our
Btrfs RAID benchmarking setups
. The other 15 Btrfs systems in the
LinuxBenchmarking.com
cluster continue to run without fault.