Brainstorming Further Cooling Improvements To The Linux Benchmarking Room
While the modifications I did to
the big basement Linux server room
back in December have been
yielding excessive "free heat"
and the heating bills this winter have been at a minimum, I've already begun thinking of ways to improve the cooling of our benchmarking basement by the time summer rolls around.
The
Tjernlund M6
fan setup done for the winter should be of big help too in the summer for exhausting warm air from the 60+ systems running on a daily basis in order to do all of our Linux/open-source benchmarking work and more. However, in hoping to lower
the rampant electricity bills in the summer
due to constantly needing to run air conditioning, I'm still weighing other possible tweaks ahead of time.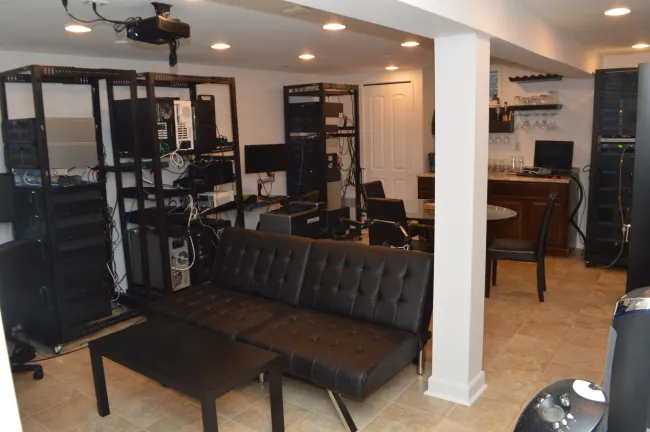 With a split cooling system not being suitable due to the basement layout, a whole-room water cooling system connected to each system would be way too cost prohibitive, etc, I had one other idea come to mind recently. While doing the renovations for this Linux benchmarking paradise, underneath the vinyl flooring tiles I had laid was a 3-in-1 underlayment as a moisture barrier, etc. It's ~4mm thick and also acts as an insulation.
In retrospect, I'm thinking of whether I should have laid down porcelain floor tiles instead. That way there would basically be radiant cooling thanks to the concrete floors underneath being rather cold and around three meters below ground level.
Sure, it will be colder to walk on during the winter months especially, but am unsure of how significant of an impact it would have on the overall room temperature with the amount of computers running down there... Thus I figured I'd pose it to Phoronix readers to see if you guys think it would be worthwhile.
I actually enjoy doing tile work and have laid plenty of tile floors myself from my construction days, so the cost of doing porcelain tiles for the server room wouldn't be that expensive (a couple hundred USD) and would be worthwhile if saving that over the extra cooling costs from the summer. I'm just thinking of whether it will work well for some radiant cooling compared to the thick underlayment and vinyl planks. It will also be a hassle having to move around all the server racks, keeping dust to a minimum, etc, while removing the old flooring and spending a few days laying down tile.
The other concern is whether the weight of loaded
42U racks
would damage the tile. That's also why I'd go for porcelain tile rather than any other ceramic tile for the greater strength, but don't recall offhand whether I've seen any server racks on porcelain tiles before. The porcelain tiles I would go with would be sized 12 x 24 inches per tile.
Thus for some fun weekend forum discussions, what do you think of the plan? Do you think switching the floor to a porcelain tile would measurably help with the cooling? What about the weight of the StarTech server racks on such floor? Thanks for any feedback!