Keeping Dust Out & The Air Clean In The 57 System Home Server Room
In trying to reduce the amount of dust, pet dander, etc, in
the basement server room
, here's the air purifier and ionizers I've been using for reducing the elements to clean in the big home Linux server room.
The latest product recommendations this weekend from the ever-evolving basement server room, where there's
currently 57 systems running daily
for our automated benchmarking farm producing results for
LinuxBenchmarking.com
(via the
Phoronix Test Suite
and
Phoromatic
) are the air purifiers/ionizers.
At the moment there's two products in use down there: the
GermGuardian AC4825
and
O-Ion B-1000
.
The
GermGuardian AC4825
I've been using with my servers since last year. The AC4825 is the number-one rated HEPA air filter/purifier on Amazon, features HEPA filtration and UV-C light for killing bacteria, etc. It's been constantly running on high with the UV light enabled for months without any issues aside from needing to every few months replace the HEPA filter.
The
O-Ion B-1000
is Amazon's number-one rated home air ionizer. This ionizer with UV-C sanitizer features a permanent filter, is very quiet, consumes minimal power, and has a great job at keeping down the dust in the basement server room.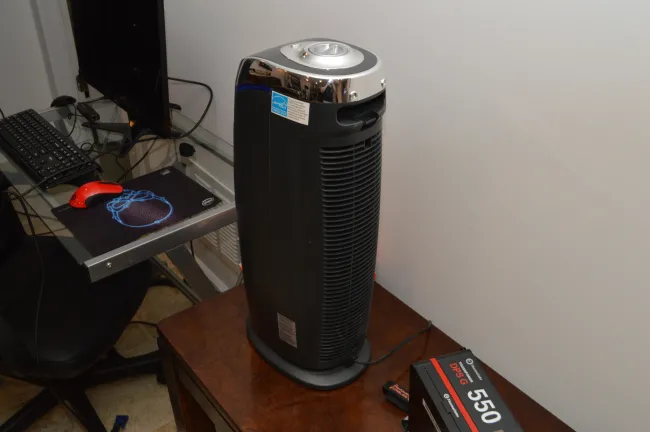 Both products have worked well and my wife Fatima who cleans the server room has said they certainly do a good job at reducing the amount of dust and such that's present from the dozens of systems running daily. They've also done a noticeable job in making the air smell fresh in the basement. Aside from the HVAC vents there's also extra air (and dust) being pushed around down there due to my custom
Adding Extra Ventilation To The Basement Linux Server Room
.
The GermGuardian and O-Ion have worked so well that we ended up adding them to the front/upper office too. Another step taken is using high quality HVAC filters and to replace them often.
Any other innovative products or ideas for helping to reduce dust from computers? Feel free to share your recommendations by commenting on this article in our forums.