We Rely On Your Support: If you would like to support Phoronix this autumn during these challenging times, you can enjoy our "Oktoberfest" sale... Phoronix Premium is available at a discounted rate for the rest of September. Learn more with the the 2021 Oktoberfest special.
Airtop2 Inferno Fanless PC Advances With "Natural Airflow" To Cool Core i7 + GTX 1080
A few weeks back many of you were excited by the prospects of the Airtop2 Inferno PC that is
a completely fanless PC with up to a Core i7 CPU and GTX 1080 GPU
. This well-built, industrial-grade computer with CompuLab's custom-engineered natural airflow technology is now a step closer to the market.
While finishing up the
Fitlet2 Linux mini PC
tests this week for the Apollo Lake powered system, I noticed CompuLab put on KickStarter its much bigger brother, the Airtop2 Inferno.
The Airtop2 Inferno is completely fanless thanks to the natural airflow design similar to
the original Airtop we previously tested
while being compact with just occupying 11 liters of space. The dimensions on this gaming PC come in at 30 x 15 x 25 cm.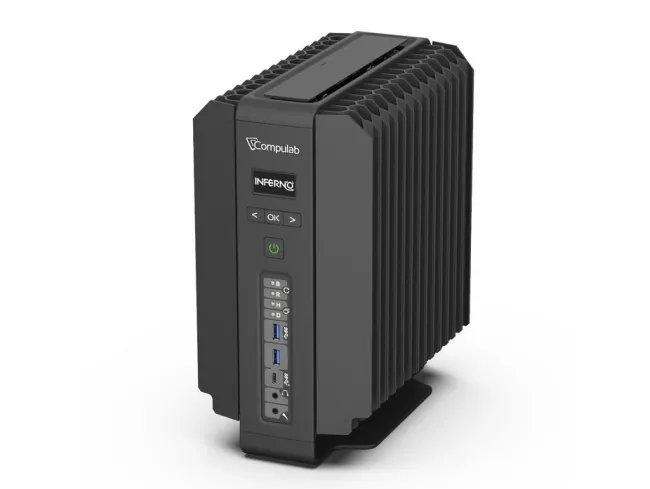 CompuLab offers the Airtop2 (non-Inferno) with a non-gaming focus but Xeon CPU options and more for professional/enterprise applications, outside of the Inferno-branded Kickstarter campaign.
The Airtop2 Inferno can get a bit pricy considering all the engineering that went into this PC. The barebone model with a Core i7 7700K but without a GPU/RAM/storage is $1,599 USD while for getting the specially equipped GTX 1080 included ups the price to $2,480 but still without RAM/storage. At $2,999 USD is where they are offering a complete system.
Those wanting to learn more about the Airtop2 Inferno can do so now via
Kickstarter
.