ARM Posts Pictures Of AMD's New Development Board
AMD's new 64-bit ARM Opteron quad-core development board
coming out later this year at an "affordable" price has us quite excited since it was announced earlier this week at the Red Hat Summit. ARM has now revealed the first pictures of this board.
Here's the pictures,
courtesy
of ARM's Jeff Underhill: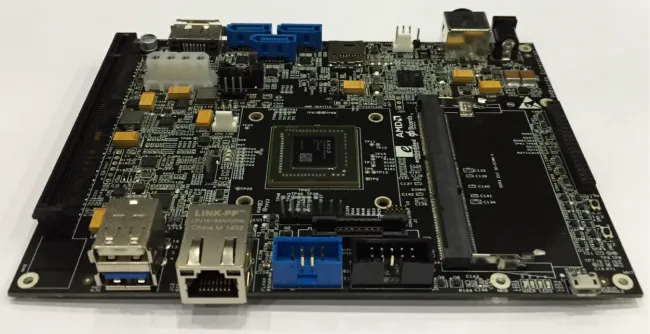 This board is quite exciting first of all for being an affordable development board with quad-core 64-bit ARM SoC. In the information on it this week and now the pictures, it's exciting that it has two DDR3 memory slots and PCI Express x16. The picture also reveals the heatsink for the Opteron "Seattle" should be easily upgradeable.
Likely the biggest surprise is the HDMI port on the board... Apparently the AMD Opteron A1100 will feature some sort of (Radeon, presumably) graphics. This hasn't been talked about by AMD before and the earlier AMD Seattle development kits reportedly don't have any integrated graphics. We'll have to wait and see for more details.
Unfortunately, this 96Boards Enterprise Edition form factor isn't compatible with nano/mini ITX cases... Fedora ARM developer Marcin Juszkiewicz has a nice
analysis
of the new board's layout and it's a pity that this ARM development board won't be able to easily mount in off-the-shelf cases.