15-Way Radeon/GeForce Source Engine Comparison On Ubuntu 14.04 LTS
For ending out March here are benchmarks of 15 different AMD Radeon and NVIDIA GeForce graphics cards on Ubuntu 14.04 LTS when running several of Valve's Source Engine games: Half-Life 2: Lost Coast, Portal, Team-Fortress 2, and Counter-Strike: Source.
The latest versions of these four Source Engine games were the latest as of yesterday on Steam. The tests were done now that HL2: Lost Coast and Portal were added on OpenBenchmarking.org albeit they face the same challenges as with other Steam-based game benchmarks as outlined in that article. With having the test profiles though, it's incredibly easy to run these Valve game Linux tests in a fully-standardized and automated manner... Thus in the hours since last night is already this fifteen-way graphics card comparison on Linux.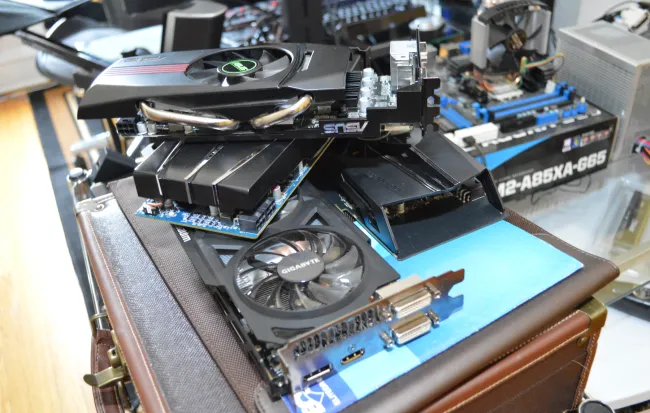 For this end of the month article we just benchmarked the latest proprietary graphics drivers: Catalyst 14.3 Beta (fglrx 13.35.5 / OpenGL 4.3.12798) and NVIDIA 334.21. Benchmarks of the open-source Intel / Radeon / Nouveau graphics drivers with these Steam on Linux games will come in April with the different driver configurations. All benchmarking happened from an Intel Core i7 4770K "Haswell" system running the latest Ubuntu 14.04 LTS development state with the Linux 3.13 kernel. The graphics cards tested included:
- ECS GeForce GT 240 512MB
- ECS GeForce GTX 460 768MB
- eVGA GeForce GTX 550 Ti 1GB
- Zotac GeForce GT 610 1GB
- MSI GeForce GTX 650 1GB
- NVIDIA GeForce GTX 680 2GB
- eVGA GeForce GTX 750 1GB
- NVIDIA GeForce GTX 750 Ti 2GB
- NVIDIA GeForce GTX 760 2GB
- NVIDIA GeForce GTX 770 2GB
- NVIDIA GeForce GTX 780 Ti 2GB
- Sapphire Radeon HD 6870 1GB
- ASUS Radeon HD 7850 1GB
- Sapphire Radeon R7 260X 2GB
- Gigabyte Radeon R9 270X 2GB
The selection of graphics cards used was based upon time availability and the hardware within my possession, which means more NVIDIA GeForce graphics cards than AMD Radeon GPUs due to various excuses by AMD ranging from "graphics cards being expensive" to being less interested in having Linux hardware reviews.
All of these Source Engine benchmarks were done in a fully-automated manner using the Phoronix Test Suite. Counter-Strike: Source, Portal, Half-Life 2: Lost Coast, and Team Fortress 2 were tested at resolutions of 1920 x 1080 and 2560 x 1600. With owning these games and having Steam installed on your system, it's just as easy as running phoronix-test-suite benchmark tf2 cstrike portal hl2lostcoast to carry out these tests using the same parameters in a fully automated manner. If you want to see how your own system stacks up against all of the graphics cards in this article, it's a simple matter of running phoronix-test-suite benchmark 1403315-PTS-SOURCEEN62. That will run the same tests in the same configuration as done for all of the graphics cards in this article. However, due to the frequently mentioned Steam benchmarking issues, there's no guarantee when using Steam that you're running the same exact versions of the various games as I used when carrying out these Linux hardware benchmarks.
For those curious about the binary AMD/NVIDIA Linux graphics driver performance in benchmarks outside of the Source Engine, see these result Windows vs. Linux comparisons: NVIDIA's GeForce Driver On Ubuntu 14.04 Runs The Same As Windows 8.1, Ubuntu 14.04: Intel's Haswell Linux Driver Comes Up Short Of Windows 8.1, AMD Radeon: Windows 8.1 Catalyst vs. Linux Gallium3D vs. Linux Catalyst.