A First Look At The Ubuntu 12.04 Performance
While there's still two months left until Ubuntu 12.04 LTS "Precise Pangolin" will be officially released, here are the first benchmarks of this forthcoming long-term support release. Included are desktop and workstation benchmarks along with a look at the boot performance and power consumption. The Ubuntu 12.04 LTS releases are compared to earlier Ubuntu Linux releases going back to the 10.10 release.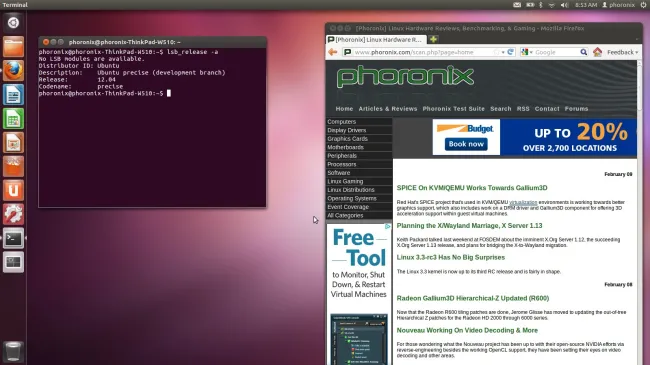 With there still being many weeks left before Ubuntu 12.04 LTS will be officially released as stable, this initial testing is being done on just one Phoronix test-bed. Benchmarks of Ubuntu 12.04 LTS spanning different machine types and configurations will come when the Precise Pangolin is warming-up for release. This first test system is a Lenovo ThinkPad W510 notebook with an Intel Core i7 processor and NVIDIA graphics.
It was the 64-bit releases of Ubuntu 10.10, 11.04, 11.10, and 12.04 (8 February 2012 daily snapshot) that were tested in this article. All of the Ubuntu releases were done of clean installations and the stock packages/settings maintained. First up are the boot performance results as reported by Bootchart for booting into the default Ubuntu desktop with automatic log-in.