We Rely On Your Support: If you would like to support Phoronix this autumn during these challenging times, you can enjoy our "Oktoberfest" sale... Phoronix Premium is available at a discounted rate for the rest of September. Learn more with the the 2021 Oktoberfest special.
Ubuntu 18.10 Is A Nice Upgrade For Radeon Gamers, Especially For Steam VR
Among the changes to find in Ubuntu 18.10 are the latest stable Linux kernel as well as a significant Mesa upgrade and also the latest X.Org Server. These component upgrades make for a better Linux gaming experience particularly if using a modern AMD Radeon graphics card. Here are some results as well as whether it's worthwhile switching to Linux 4.19 and Mesa 18.3-dev currently on Ubuntu 18.10.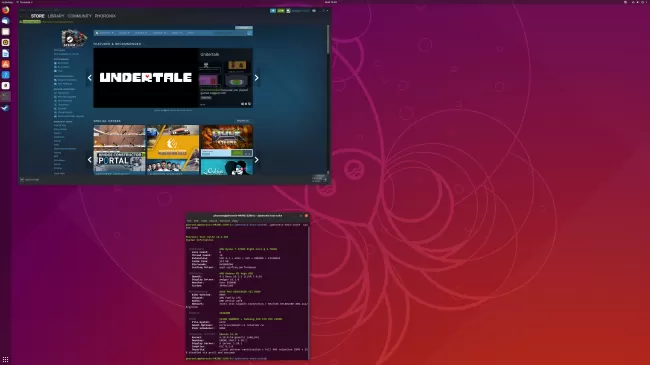 The move from Linux 4.15 on Ubuntu 18.04 LTS to now Linux 4.18 with Ubuntu 18.10 is significant due to many AMDGPU DRM improvements during that time as covered in numerous Phoronix articles over the summer. There is also the transition from Mesa 18.0.5 to Mesa 18.2.2 that is very significant especially for the RADV Vulkan driver with performance optimizations, new Vulkan extensions, and numerous fixes. The RadeonSI Gallium3D driver has also received improvements as well this year though in Mesa 18.0 it was already quite mature so if you are solely using OpenGL applications/games the impact is likely much less.
The largest underlying upgrade is from X.Org Server 1.19.6 to X.Org Server 1.20.1. X.Org Server 1.20 is a very big update given its lengthy development cycle. There are DRI3 additions, server-side GLVND, many XWayland improvements, a lot of GLAMOR 2D optimizations, and more.
For Radeon gamers the X.Org Server 1.20 adoption is most significant if you have an HTC VIVE headset and utilize Steam VR for virtual reality gaming... X.Org Server 1.20 paired with Linux 4.18 have the necessary bits around RandR leasing, non-desktop quirk handling for VR headsets, and other plumbing/infrastructure work made by Keith Packard over the past nearly two years to improve the support around VR on Linux. I'll have some fresh Linux VR tests using Ubuntu 18.10 coming up soon on Phoronix.
Given the numerous upgrades, I ran some benchmarks with a Radeon RX 580 and RX Vega 64 graphics cards to show the impact of the upgrade. The configurations tested were:
- Ubuntu 18.04.1 LTS with its stock Linux 4.15 + X.Org Server 1.19.6 + Mesa 18.0.5 built against LLVM 6.0.
- Ubuntu 18.10 with its default Linux 4.18 kernel + X.Org Server 1.20.1 + Mesa 18.2.2 built against LLVM 7.0.
- Ubuntu 18.10 when upgrading to the Linux 4.19 Git kernel using the Ubuntu Mainline Kernel PPA and also using the Oibaf PPA to switch to Mesa 18.3-devel Git built against LLVM 7.0 for the latest open-source graphics experience.
Various OpenGL and Vulkan games were benchmarked using the Phoronix Test Suite.