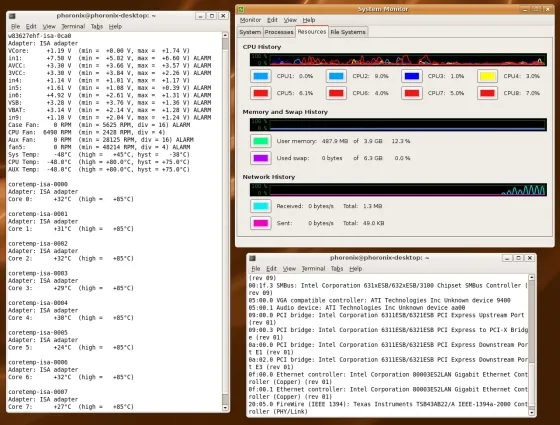 Conclusion:
Intel had launched its 5400 Server Chipset back during the Supercomputing SC07 conference in November and in conjunction Tyan had launched its new motherboards. The Tempest i5400XT S5396 is not Tyan's only motherboard that boasts the Intel 5400 Chipset but there is also the Tempest i5400PW S5397, i5400XL S5392, and i5400PL S5393. However, the Tyan Tempest i5400XT S5396 is the only workstation motherboard that has yet to be qualified by Intel for their Qualified Server Board Program. Not only does Intel believe that this motherboard is a real winner, but we too are impressed by the abilities of this motherboard.
The Tyan Tempest i5400XT motherboard is very similar to the i5000XT, but with the updated chipset, and that too was an excellent offering. The Intel 5400 Chipset brings support for the Xeon 5400 "Harpertown" and "Wolfdale" (1600MHz FSB, 45nm) processors, PCI Express 2.0, greater PCI Express lanes, and heightened FB-DIMM memory support. On the software side, we had zero Linux compatibility problems and we had tested the i5400XT with a number of distributions. This motherboard is also WHQL certified by Microsoft and supported by Red Hat for RHEL. The performance of this motherboard was also slightly elevated when compared to the Intel 5000X Chipset with the same hardware. Our only complaint about this motherboard is that the northbridge heatsink is very close to the upper PCI Express x16 slot, which makes it a bit difficult removing a graphics card. However, if you're not like us and swapping out hardware constantly, this shouldn't be much of an issue at all.
The Tyan Tempest i5400XT S5396 is priced at approximately $450, which is appropriate for a motherboard of its caliber. The bottom line for the Tyan Tempest i5400XT is that it's a superb motherboard if you are in the market for building a new high-end workstation or server. Tyan is once again taking home an Editor's Choice Award from Phoronix. In the near future, we will be looking at other new Intel server motherboards.