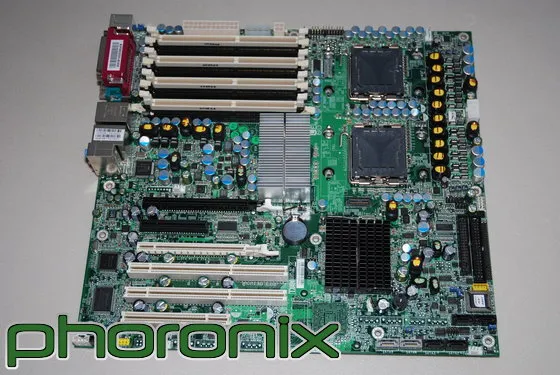 Motherboard Layout:
While the Tempest i5400XT (S5396) boasts a new chipset, the layout of the motherboard isn't too different from the earlier i5000XT. When looking at the i5400XT motherboard, the visible differences really come down to a different heatsink on the northbridge. At the rear I/O panel, the i5400XT has picked up SPDIF In and Out support. Two of the technical differences between the Intel 5000X and 5400 Chipsets include the latter supporting CPUs with a 16000MHz FSB (in addition to the 1067/1333MHz support found on both chipsets) and 128GB maximum of FB-DIMM memory (previously 64GB).
The Tyan Tempest i5400XT motherboard supports up to two Intel LGA-771 processors. Intel Xeon processors going back to the 5000 Dempsey series are supported as well as the dual-core 5100 Woodcrest series and quad-core 5300 Clovertown processors, but support has been added in the 5400 Chipset for the Wolfdale and Harpertown processors. Both Wolfdale and Harpertown are built on a 45nm process. We previously talked about Intel's Harpertown processors during the 2007 Fall Intel Developer Forum. In front of the dual CPU socket area on the S5396 motherboard is the 8-pin EPS power connector.
In the bottom corner of the motherboard is a single FDD and IDE connectors as well as the six Serial ATA 2.0 ports, BIOS chip, and CMOS jumper. The six SATA 2.0 ports support RAID 0, 1, 5, and 10 modes. The southbridge used by the i5400XT is the Intel 6321ESB, which is the same chipset found on the Tyan i5000XT. Cooling this chip is a small aluminum heatsink.