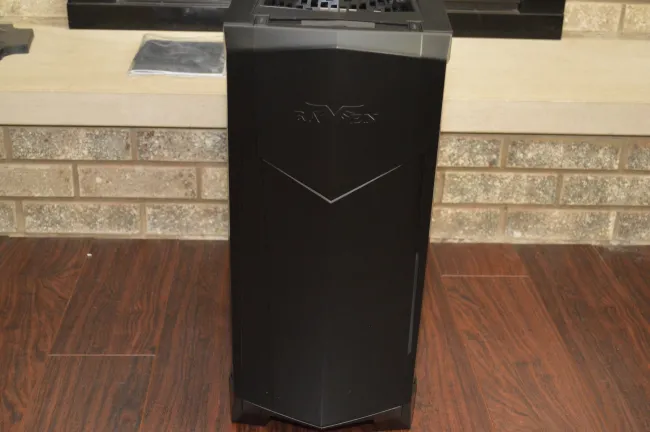 We're finally starting to reach a state where case manufacturers are doing away with the seldom-used 5.25-inch drive bays! With computer enthusiasts not often needing optical drives these days in their desktops, SilverStone introduced the Raven RV05 this past summer that does away with all 5.25-inch drive bays (though there is a slim slot-loading optical drive bay slot if you really need it...). With Linux users especially being rarely reliant on optical drives given that most Linux distributions can be installed in a "live USB" manner and most software obtained over the Internet via distribution package repositories, the Raven RV05 we're looking at today should be efficient and attractive to many Linux users.
Features:
- Signature RAVEN styling touches
- Revolutionary 90 degree motherboard mounting from RAVEN RV01
- Breakthrough 5.25 inch bay-free design for unprecedented power to size ratio
- Two Air Penetrator fans included for great performance and quietness
- Positive air pressure design for excellent cooling/quietness and dust-prevention
- Quick-release latch for fast side panel removal
- Front access to main filter for easy maintenance
- Support for various liquid cooling radiator sizes
Specifications:
- Plaster outer shell, steel body
- Black coloring
- Optional side panel window
- SSI-CEB, ATX, micro-ATX motherboard compatibility
- 2 x 3.5-inch drive bays
- 2 x 2.5-inch drive bays
- 1 x slim slot-loading optical drive bay
- 1 x top 120mm fan slot
- 2 x 180mm AP fans
- 7 x expansion slots
- 2 x USB 3.0, audio, microphone front panel ports
- Compatible with 12.3-inch long expansion slot cards
- 162mm CPU cooler height limitation
- 7.6kg net weight
- 242 x 529 x 498mm dimensions
Contents:
Like all of SilverStone's high-end cases, the Raven RV05 arrived well packaged and in pristine condition. Included with the RV05 is obviously all of the mounting hardware you need. Two 120mm Air Penetrator fans come pre-installed in the bottom of the chassis while there's an empty 120mm fan slot at the top of the chassis. SilverStone's Air Penetrator fans can be toggled via built-in fan speed switches.