We Rely On Your Support: Have you heard of Phoronix Premium? It's what complements advertisements on this site for our premium ad-free service. For as little as $3 USD per month, you can help support our site while the funds generated allow us to keep doing Linux hardware reviews, performance benchmarking, maintain our community forums, and much more. You can also consider a tip via PayPal.
SilverStone Strider Gold S Series 750W
For those in need of a high performance power supply that's small, completely modular, and very reliable, the SilverStone ST75F-GS if the Strider Gold S Series is worth a gander.
SilverStone advertises the Strider Gold S Series as being "the world's smallest, fully-modular ATX power supplies", for which the ST75F-GS is part of the line-up. This power supply being reviewed today offers 100% modular cables and the depth of the ATX power supply is just 150mm, which allows the 80 PLUS Gold PSU to fit into small cases and to provide a little bit of extra room to ensure you can neatly accommodate all of your system's cabling. While it's the 750 Watt unit we're looking at today, the Strider Gold S Series ranges in models from 550 Watt to 1500 Watt.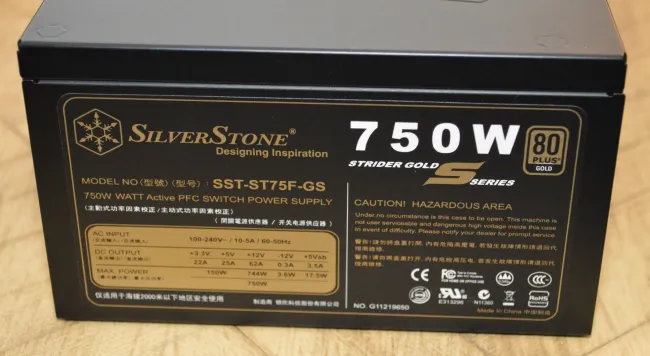 This compact ATX PSU with 80 PLUS Gold certification is rated for 24/7 continuous power output with 40C operating temperature, a class-leading +12V rail, strict +/- 3% voltage regulation and low ripple and noise, and a very quiet 120mm fan for cooling. The overall PSU dimensions are 150 x 86 x 150 mm.
Included with the SilverStone ST75F-GS was all of the 750 Watt power supply, a multi-language manual, a separate user manual, all of the modular cables, a US power cable, and some straps for basic cable management.