We Rely On Your Support: This site is primarily supported by advertisements.

Ads are what have allowed this site to be maintained for the past 16 years.

We do our best to ensure only clean, relevant ads are shown, when any nasty ads are detected, we work to remove them ASAP. If you would like to view the site without ads while still supporting our work, please consider our ad-free Phoronix Premium. You can also consider a tip via PayPal.
A Rolling Battle: Antergos vs. Clear Linux vs. openSUSE On Four Systems
With the start of a new month comes fresh benchmarks of some of the leading rolling-release Linux distributions. For kicking off September are benchmarks of the Arch-based Antergos, Intel's Clear Linux, and openSUSE Tumbleweed when testing on four distinctly different systems.
This article today is to serve as some fresh reference benchmarks for these continuously evolving distributions. As of a few days ago when the testing began, the three tested distributions were comprised of:
Antergos 18.8-Rolling had the Linux 4.18.5 kernel, Mesa 18.1.7, GCC 8.2.0 compiler, an EXT4 file-system, and GNOME Shell 3.28.3 desktop. On the SATA 3.0 storage the CFQ I/O scheduler was in use, Antergos defaults to P-State Powersave for the Intel CPUs, and defaults to CPUFreq Schedutil for the AMD CPUs.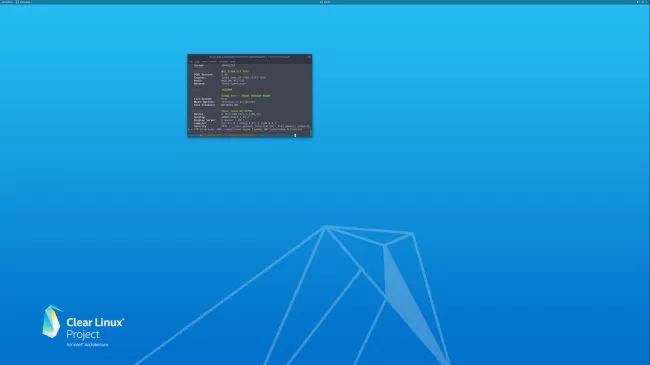 Clear Linux was up to the Linux 4.18.5 kernel, GNOME Shell 3.28.3, X.Org Server 1.20.1, Mesa 18.3-dev, GCC 8.2.0, and used the MQ-DEADLINE I/O scheduler and the performance governor across all tested CPUs.
OpenSUSE Tumbleweed was on the Linux 4.18.5 kernel as well, KDE Plasma 5.13.4, Mesa 18.1.6, GCC 8.2.1, CFQ I/O scheduler, and used P-State powersave on Intel CPUs and CPUFreq ondemand for AMD CPUs. One change made against the out-of-the-box configuration was using an EXT4 file-system for openSUSE rather than the default XFS+Btrfs configuration... Just as some have attributed openSUSE's slower performance in some past articles due to its default file-system configuration so this time around it was tested with EXT4 like Clear and Antergos.
The four systems tested included:
- Intel Xeon E3-1280 v5 Skylake system with MSI Z170A SLI PLUS motherboard, 16GB of RAM, Radeon RX 470, and a Crucial MX500 SATA 3.0 525GB SSD.
- Intel Core i7 8086K Coffeelake system with ASUS PRIME Z370-A motherboard, 16GB of RAM, Radeon RX 580, and Crucial MX500 SATA 3.0 525GB SSD.
- Intel Core i9 7960X with MSI X299 SLI PLUS motherboard, 16GB of RAM, Radeon RX 550 graphics card, and Crucial MX500 SSD.
- AMD Ryzen Threadripper 2950X with MSI MEG X399 CREATION motherboard, 32GB of RAM, GeForce GTX 1060 graphics, and Crucial MX500 SSD.
The systems are distinctly different and not meant for comparing the performance between the systems but rather for offering a look at how the three rolling-release distributions under test are performing. Originally I planned for a larger comparison of systems but with Antergos as of testing it had UEFI boot problems on a number of my other systems, which seemed to mostly be an issue between Antergos UEFI booting and ASUS motherboards.
All of these Linux distribution benchmarks were carried out using the Phoronix Test Suite.