We Rely On Your Support: Have you heard of Phoronix Premium? It's what complements advertisements on this site for our premium ad-free service. For as little as $3 USD per month, you can help support our site while the funds generated allow us to keep doing Linux hardware reviews, performance benchmarking, maintain our community forums, and much more. You can also consider a tip via PayPal.
The Sapphire Radeon HD 6570 sports connectors for HDMI 1.4a, dual-link DVI, and VGA. Due to this being a non-power-hungry mid-range graphics card, all power is obtained from the PCI Express x16 slot without any reliance on external PCI-E power sources. The Radeon HD 6570 is CrossFireX compatible, but we were only provided with one part sample so we have no multi-GPU results to publish today.
At launch, Sapphire is shipping four different models of the Radeon HD 6570 graphics card with different VRAM configurations. None of the Sapphire Radeon HD 6570 graphics cards ship with a factory-overclocked Turks GPU core, but it's all about the video memory and heatsink for these mid-range units. The 11191-00 has 1GB of DDR3 at an 1800MHz clock, the Sapphire 11191-01 has 1GB of DDR3 at an 1800MHz clock, 11191-02 SKU has 2GB of DDR3 with a 1600MHz clock, and the 11191-03 has 512MB of GDDR5 with a 4000MHz memory clock. All the Radeon HD 6570 GPUs have a 128-bit memory interface. Our review sample was of the Sapphire 11191-03 SKU with 512MB of GDDR5 video memory. This is also the only Sapphire HD 6570 to have a dual-slot cooler.
This Sapphire unit does not follow the AMD reference design for the Radeon HD 6570 but employs a nicer Arctic Cooling heatsink. This Radeon HD 6570 is a full-height graphics card and with the non-reference actively cooled heatsink it ends up being a dual-slot graphics card. Beyond the 512MB of GDDR5, this graphics card also supports up to 2.8GB of AMD Hyper Memory, which is allocating part of the system's main memory as part of the addressable frame-buffer.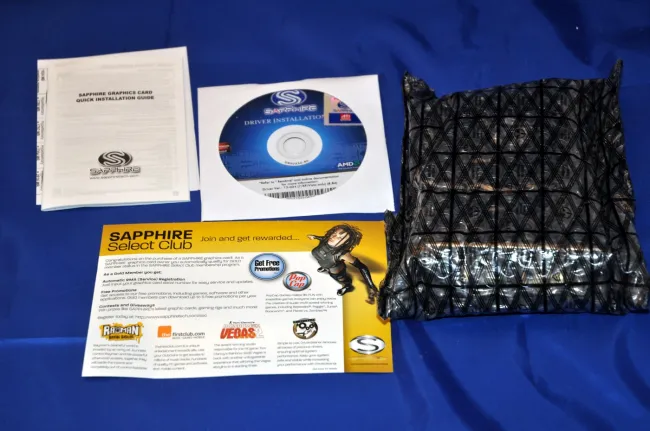 Included with the Sapphire Radeon HD 6570 retail graphics card was just the Windows driver CD, a Sapphire quick installation guide, and a promotional paper advertising the Sapphire Select Club.