Sapphire Radeon HD 4670 512MB GDDR4
System Setup:
We used our standard graphics card test-bed when running the Sapphire Radeon HD 4670 512MB GDDR4. The system setup consisted of an Intel Core 2 Duo E8400 running at 4.00GHz, an ASUS P5E64 WS Professional, 2GB of OCZ DDR3-1333MHz memory, Western Digital 160GB SATA HDD, and an OCZ EliteXStream 800W power supply. We compared the performance of the Sapphire Radeon HD 4670 GDDR4 to that of the Radeon HD 4670 GDDR3, Sapphire Radeon HD 4650 512MB OC, and Radeon HD 4830 512MB.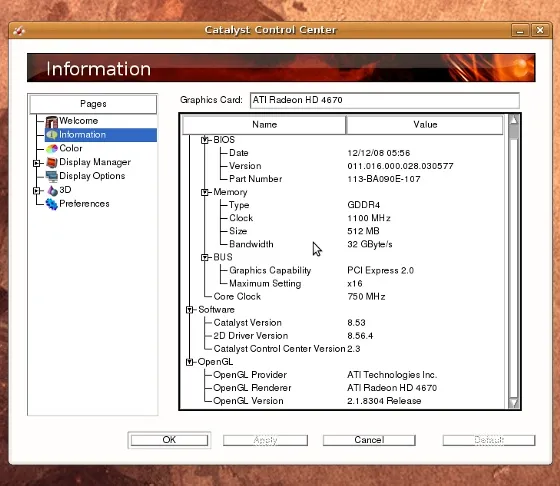 Making up the software side of this system was Ubuntu 8.10 with the Linux 2.6.27 kernel and X Server 1.5.2. We were using the Catalyst 8.12 Linux driver during testing, which worked just fine with this new Sapphire GDDR4 graphics card.
While OverDrive on Linux was made available last year, we were unable to overclock this graphics card due to a bug in Catalyst 8.12 with the libatiadlxx.so library not being loaded. Prior to sharing our quantitative performance benchmarks, we first wanted to share some of our thermal results for this graphics card's cooler. The Sapphire cooler is indeed very quiet and we ran into no thermal related issues. We monitored the GPU temperature through the Phoronix Test Suite while running three loops of Lightsmark 2008. The highest temperature hit by the RV730XT was about 60°C, but after the testing had ended it quickly dropped to about 45°C.
The tests we used for looking at the Ubuntu Linux performance of this HD 4670 GDDR4 graphics card was Warsow, World of Padman, Doom 3, Quake 4, Lightsmark 2008, and GtkPerf. All of these tests were run through the Phoronix Test Suite software. Note: the graphs label the Sapphire HD 4670 GDDR4 incorrectly as being an HD 4870. This typo will be fixed, as in fact it is an HD 4670 model.