Sapphire Radeon HD 4670 512MB GDDR4
Examination:
The first Radeon HD 4670 that we looked at from Sapphire had a cooler that closely followed AMD's reference design, but this is not the case with the GDDR4 model. Sapphire has installed a much larger aluminum heatsink onto their HD 4670 GDDR4 model with an equally large fan. This fan though is designed to operate quietly and the specifications say it should operate at less than 20 dBA. In addition to the GPU heatsink, there are small memory heatsinks on all of the GDDR4 ICs.
The RV730XT core on this graphics card is effectively the same as the one we previously reviewed -- built on a 55nm fabrication process, 320 Stream processors, and is CrossFireX compatible. Sapphire Technology has not factory overclocked the GPU on this graphics card, which is set to run at 750MHz. The GDDR4 memory is set to run at 1100MHz, which is a 100MHz boost compared to the GDDR3 memory on the earlier Sapphire card.
On the back of the graphics card there are the four screws holding the large heatsink in place and then four more memory ICs with heatsinks.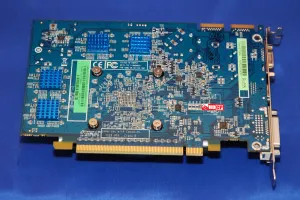 The ports on the Sapphire HD 4670 GDDR4 included one VGA, one HDMI, and one DVI connector. Instead of offering a TV output port, Sapphire used that area to integrate an HDMI connector, which is a nice change. Like the other graphics cards with R600/700 graphics processors, the HD 4670 has an integrated 7.1 channel audio controller for use with HDMI connections.