We Rely On Your Support: Have you heard of Phoronix Premium? It's what complements advertisements on this site for our premium ad-free service. For as little as $3 USD per month, you can help support our site while the funds generated allow us to keep doing Linux hardware reviews, performance benchmarking, maintain our community forums, and much more. You can also consider a tip via PayPal.
Core i7 7700K vs. Ryzen 7 1800X With Ubuntu 17.04 + Linux 4.12
Given the recent BIOS improvements for Ryzen and the ever-advancing state of Linux and components like Mesa (although no recent Ryzen-specific work), here are some fresh tests of the current high-end Ryzen 7 1800X compared to an Intel Core i7 7700K on Ubuntu 17.04 with Linux 4.12 and Mesa 17.2-dev.
As a reminder, the Ryzen 7 1800X as the current high-end Zen desktop CPU until ThreadRipper, is priced at $499 USD and features eight cores / sixteen threads with a 3.6GHz base frequency and 4.0GHz turbo. The Core i7 7700K meanwhile has the high-end Kabylake desktop CPU sells for about $340 USD and is quad-core plus Hyper Threading and has a 4.2GHz base frequency with 4.5GHz turbo.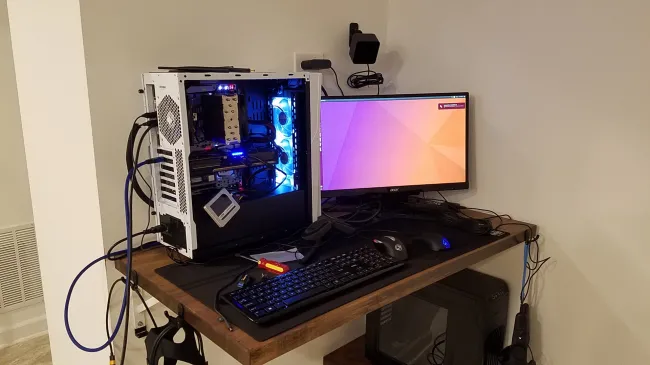 The Ryzen 7 1800X test system featured the MSI X370 XPOWER GAMING TITANIUM motherboard with its latest BIOS, 2 x 8GB DDR4-3200MHz memory now running correctly thanks to the BIOS upgrade, 525GB Crucial SSD, and a Radeon R9 Fury graphics card. The Core i7 7700K system had the same RAM, same SSD, and same graphics card while using the MSI Z270-A PRO motherboard also with its latest BIOS.
Both systems were running Ubuntu 17.04 x86_64 with upgrades to the Linux 4.12 Git kernel and Mesa 17.2-dev Git this week via the Padoka PPA. GCC 6.3 was the default compiler during testing. All of the benchmarks were automated in a reproducible manner via the Phoronix Test Suite.
First up are the Ryzen 7 1800X vs. Core i7 7700K Linux gaming tests followed by various open-source CPU benchmarks.