Open-Source Win: RADV Trades Blows With AMDGPU-PRO Vulkan In F1 2017
At least as far as the benchmark mode is concerned, I have not run into any noticeable corruption problems, seg faults, or other problems in my several hours of F1 2017 benchmarking across various Radeon GCN graphics processors -- with the exception of Vega.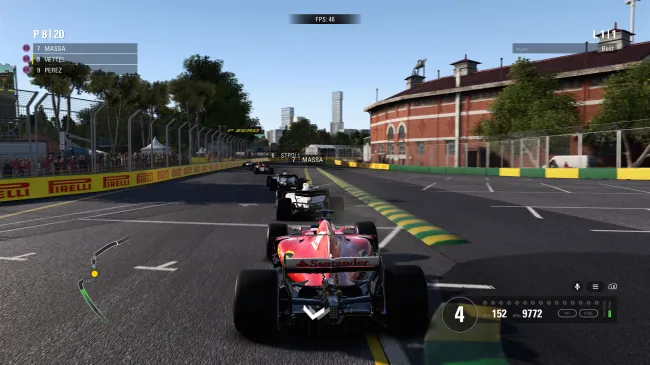 One rendering benefit of AMDGPU-PRO Vulkan over RADV is that with the RX Vega hardware there was no corruption issues. As outlined in the earlier RADV article, when using the Vega GPUs with current RADV there is some minor corruption problems with this game. On the plus side for AMDGPU-PRO, that corruption didn't occur with v17.40 on either the RX Vega 56 or 64. So no real rendering problems to note with this driver, though likely only a matter of days before RADV developers tune up their driver with additional Vega fixes/optimizations. But on the downside for Vega with AMDGPU-PRO, I did encounter hangs when running F1 2017 at the higher quality levels with both the RX Vega 56 and 64 cards.
The screenshots on this page are under AMDGPU-PRO. The graphics cards used for this RADV vs. AMDGPU-PRO testing included the:
- Radeon R9 285
- Radeon RX 550
- Radeon RX 560
- Radeon RX 580
- Radeon R9 Fury
- Radeon RX Vega 56
- Radeon RX Vega 64
AMDGPU-PRO 17.40 was used and then Linux 4.14 Git (or AMDGPU DC DRM-Next for the Vega cards) paired with Mesa Git built against LLVM 6.0 SVN via the Padoka PPA. The same system was used for testing obviously with the Intel Core i7 8700K, ASUS PRIME Z370-A, 16GB DDR4-3000 memory, Samsung 950 PRO 256GB NVMe with the Steam games on a 525GB Crucial SATA 3.0 SSD, and Dell 4K display. All of these F1 2017 benchmarks are facilitated in a fully-automated manner with the test profile contributed by Feral for the Phoronix Test Suite.