A GNU/Linux Smartphone Running GNOME & HTML5 Web Apps? Priced At $599, Ships In 2019 If The Stars Align
After two successful crowdfunding campaigns for producing security-focused Linux laptops while aiming to be as open-source as possible and now shipping with Coreboot, Purism is aiming for their most ambitious project yet... the smartphone. Can Purism succeed where Ubuntu Mobile, Firefox OS, OpenMoko, and others have not lasted? They think so, but it will take crowdfunding again and the finished device likely won't surface until at least 2019.
Purism is today announcing the Librem 5, which they advertise as a phone focused on security by design and privacy protection by default. The Librem 5 isn't running Android AOSP or even Jolla/Sailfish or one of the other options like Mer or the community forks of Unity 8, but rather they are aiming to build their own GNU/Linux smartphone stack. At the moment they are aiming for the user experience to be powered by GNOME/GTK but they may still switch to Plasma Mobile but regardless they do plan to support Qt apps too on their phone. And they also intend to support convergence. While they aren't building their own desktop environment, many of their goals align with that of the failed Ubuntu Edge campaign.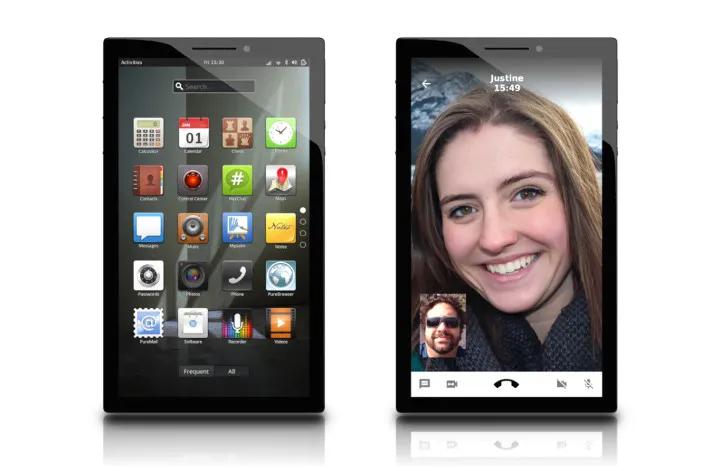 The Librem Purism 5's hardware and software is still to be developed, but Purism has provided these design mockups.
They will be calling their mobile OS still Purism PureOS. Besides PureOS, they are saying the Librem 5 will also be able to run Fedora, Debian, SUSE, Ubuntu, and other Linux distributions.
While GTK and Qt applications will be supported, they are also aiming for a good HTML5 web app experience in trying to create a "open utopia" for developers. They are also trying to make the Librem 5 their "world's first ever IP-native mobile handset" and support decentralized communication.
As far as why they are building their own open phone stack completely rather than reusing AOSP, Ubuntu Mobile, Mer, or one of the other many options, they explained, "we want to promote a pure and unified stack, not have a separate mobile OS with proprietary bits or a completely different middleware stack. We want to support the community efforts of GNOME (as well as KDE) and allow for any GNU+Linux to work out-of-the-box providing mainline improvements that work not just on mobile but across the device spectrum."

Design mockups of the Librem 5 provided by Purism.
On the hardware side, they are still working out those details but it will be built around either the i.MX6 or i.MX8 SoC, offer a 5-inch touchscreen, 3GB of LPDDR3 memory, and 32GB eMMC memory. With their privacy-minded design, there will be hardware kill switches for the camera, microphone, baseband, and WiFi/Bluetooth. They plan to allow the device to connect to 2G/3G/4GB, GSM, UMTS, and LTE networks. The i.MX8 would be the better CPU option especially with the phones not being ready for consumers for at least one year by which the i.MX6 will just be further dated. However, they are yet to be decided on i.MX6 vs. i.MX8 until they find out more when the hardware will be available and the state of the Linux driver support.
At this stage Purism is now soliciting for money to further develop their idea while following that is when they plan to begin working on the schematics, actual phone body, PCB, etc, which will take well into 2018. They aim to have a development board around Q2'2018 to allow for more software work and developers who want to begin targeting the platform. They don't expect to have the phone design pretty much firmed up until late 2018 and either at the very end of 2018 or early 2019 is when they plan to actually begin shipping the finished phone. Likewise, they plan to spend most of 2018 developing PureOS as well but intend to have this new, original GNU/Linux smartphone stack done by the end of next year.

Purism hopes the Librem 5 will finally provide a converged Linux device experience. Design mockups of the Librem 5 provided by Purism.
The Librem 5 phone is priced at $599 USD with an estimated ship date of January 2019 while for $299 USD they are aiming for a developer kit with screen/touchscreen, mainboard, and various sensors. They hope to have the developer kit ready by June 2018. Or for $1399 USD they are also advertising the Librem 5 phone paired with a 30-inch monitor, keyboard, and mouse for living out the long dreamed about converged experience.
The company is hoping to raise at least $1,500,000.00 USD while they have stretch goals ranging from four to thirty-two million dollars. Considering the millions invested into Ubuntu Touch/Mobile by Canonical, Mozilla on Firefox OS, etc, it will be quite a feat if Purism can successfully pull it off in delivering a decent GNU/Linux phone for this amount.
More details via their crowdfunding announcement at puri.sm. As of writing this article prior to the embargo lift, the $1,500,000 campaign had already listed $4,795.00 in pledges.
If you enjoyed this article consider joining Phoronix Premium to view this site ad-free, multi-page articles on a single page, and other benefits. PayPal tips are also graciously accepted. Thanks for your support.