Phoronix Test Suite 5.0 Ships With A Tech Preview GUI, New Improvements
Phoronix Test Suite 5.0-Plavsk ships today with an experimental / tech preview user-interface powered by HTML5 and other new features to bolster the software's capabilities for open-source benchmarking and automated testing.
Chicago, IL -- 12 March, 2014 -- Phoronix Media has announced the immediate availability of the much anticipated Phoronix Test Suite 5.0 (codenamed "Plavsk") release for the de facto standard software for automated, open-source Linux benchmarking software.
Phoronix Test Suite 5.0 ships with a technology preview version of an HTML5 user-interface to complement the command-line interfaces and prior GTK2 GUI. The HTML5 UI can be run either locally or remotely with basic mobile support. The HTML5 UI will be refined with big updates in Phoronix Test Suite 5.x updates over the coming quarters. The command-line interface and other OpenBenchmarking.org / Phoromatic remote options already provided by the Phoronix Test Suite remain the recommended and officially supported interfaces for the Phoronix Test Suite 5.0 milestone.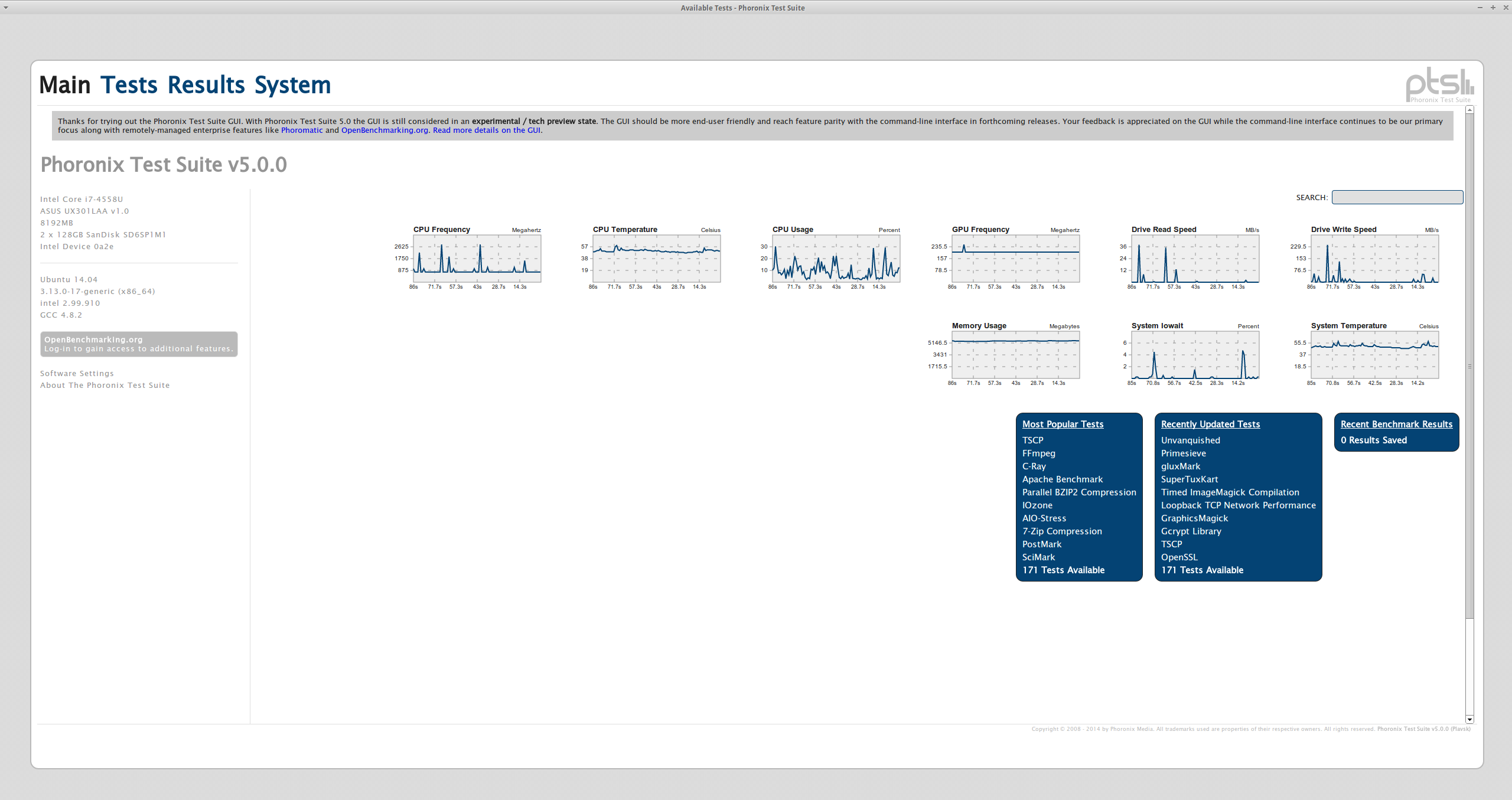 The Phoronix Test Suite 5.0 update also features improvements for Microsoft Windows 8.1 support, improved software and hardware detection via the Phodevi library, a new "run-random-tests" sub-command for stressing systems with random workloads, an experimental WebSockets interface, bug-fixes, start-up speed optimizations, improved OpenBenchmarking.org integration, and various other fixes and improvements.
Phoronix Test Suite 5.0 is supported on Linux, BSD, Solaris, and OS X operating systems along with limited support for Microsoft Windows. The Phoronix Test Suite is licensed under the GNU GPLv3 and its code can be found via github.com/phoronix-test-suite/. The Phoronix Test Suite client is available for free download from Phoronix-Test-Suite.com.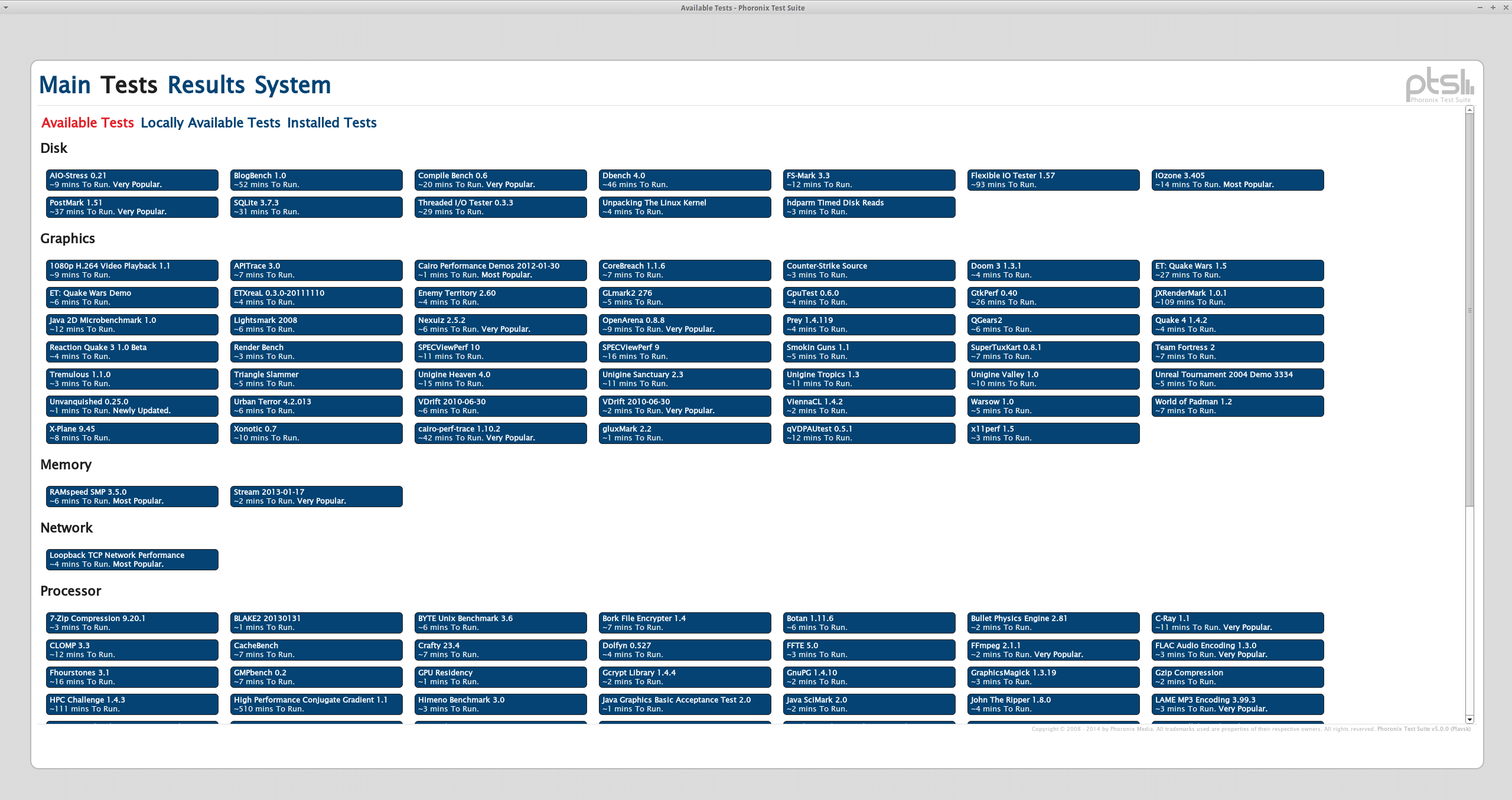 Enterprise licensing, professional support, project sponsorship, and custom engineering services are available via contacting commercial.phoronix-test-suite.com.
About The Phoronix Test Suite:
Phoronix Media develops the Phoronix Test Suite in conjunction with leading computer hardware and software vendors. It seeks to standardize the process of validating software and hardware on Linux and alternative operating systems by providing the most comprehensive testing and benchmarking platform. The Phoronix Test Suite makes it easy for hardware vendors to test an array of software relevant to them in an autonomous manner while being highly configurable and providing concise results. Software vendors benefit from being able to test their software in an efficient manner for performance tuning and regression tracking, generate new users of their products through the Phoronix Test Suite, and provide a direct channel to hardware vendors validating against their software using this test suite. Consumers are able to benefit from the Phoronix Test Suite by detecting bottlenecks within their system and experience greater vitality on the Linux Operating System from a standardized test specification.
The OpenBenchmarking.org results archive is home to more than 1.4 million completed benchmarks, details on 350 thousand systems, and offers more than 450 test profiles and over 100 distinct suites.
About Phoronix Media:
Michael Larabel founded Phoronix Media in June 2004 and is the largest Internet resource devoted to enriching the Linux hardware experience. Its premiere web property, Phoronix.com, publishes Linux-based hardware reviews, software previews, and driver analyses with more than 2,600 original featured articles and more than 11,100 original news stories.
###
Phoronix Media
phoronix [at] phoronix.com
If you enjoyed this article consider joining Phoronix Premium to view this site ad-free, multi-page articles on a single page, and other benefits. PayPal tips are also graciously accepted. Thanks for your support.