We Rely On Your Support: Have you heard of Phoronix Premium? It's what complements advertisements on this site for our premium ad-free service. For as little as $3 USD per month, you can help support our site while the funds generated allow us to keep doing Linux hardware reviews, performance benchmarking, maintain our community forums, and much more. You can also consider a tip via PayPal.
PowerColor SCS3 Radeon HD 4650 512MB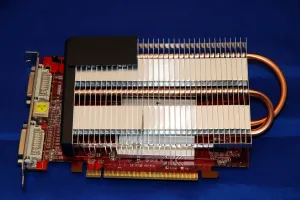 Back in December we looked at the Sapphire Radeon HD 4650 512MB OC graphics card. This mid-range ATI graphics card had performed well under Linux and what separated it from the other Radeon HD 4650 graphics cards on the market was its factory overclock of 650/900MHz. While not factory overclocked beyond the RV730PRO specifications, PowerColor has the PowerColor SCS3 Radeon HD 4650 512MB, which instead offers passive cooling. Is this an ideal candidate for a Linux-based HTPC? In this article we are looking at the PowerColor SCS3 Radeon HD 4650 512MB.
Features:
- 600MHz Core Clock / 800MHz Memory Clock
- 512MB, 128-bit DDR2 Video Memory
- 320 Stream Processing Units
- PCI Express 2.0 Compliant
- OpenGL 2.0 / DirectX 10.1
- Dual DVI-D
- Fanless Cooling Solution
Contents:
Our review sample was shipped as an OEM package, but when purchasing the PowerColor SCS3 Radeon HD 4650 512MB through normal channels it should be in a retail package. Besides a colorful box, the AX4650 512MD2-S3 will also include an S-Video to composite video adapter, DVI adapter, PowerColor manual, DVI to HDMI adapter, and an expansion slot bracket for the second expansion slot to provide additional airflow to the passive cooling solution.