Pentium G4600 vs. Ryzen 3 1200 On Ubuntu 17.10 Linux Benchmarks
Earlier this week I posted some benchmarks looking at Intel Pentium vs. AMD Ryzen 3 performance for Linux gaming. Those tests on the Pentium and Ryzen systems were done with both NVIDIA and AMD Radeon graphics for seeing how the gaming performance compares in the spectrum of sub-$100 CPUs and cheap graphics cards. But for those that were just curious about the CPU performance, here are some benchmarks I also carried out with the Pentium G4600 Kabylake and AMD Ryzen 3 1200.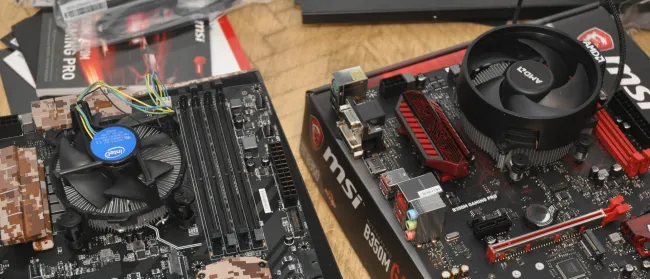 The AMD Ryzen 3 1200 is the current lowest-end Ryzen processor. The Ryzen 3 1200 is a quad-core processor with a 3.1GHz base frequency and 3.4GHz boost clock frequency. This Ryzen 3 CPU has 2MB of L2 cache and 8MB of L3 cache. The TDP of this processor is 65 Watts and it retails for about $100 USD.
The Intel Pentium processor I used for the previous comparison and this one was the Pentium G4600, based upon the CPUs I had available it was the closest with unfortunately not getting many review samples of low-end CPUs (this was actually a CPU I had picked up previously for testing). The Pentium G4600 is a dual-core part with Hyper Threading to have four logical cores and has a 3.6GHz base frequency but no turbo/boost ability. The G4600 has a 3MB cache and has a 51 Watt TDP while this CPU retails for about $80 USD. For those not gaming, the Pentium G4600 has HD Graphics 630 that is capable for Linux desktop/office tasks.
Aside from the motherboard differences, both systems were tested with 2 x 4GB Corsair DDR4-3200 memory, 120GB Intel 600p SSD NVMe SSD, and was using a GeForce GTX 1050 graphics card although no graphics tests were done for this article. Both systems were running Ubuntu 17.10 with the Linux 4.15 kernel Git offering Kernel Page Table Isolation and the basic Retpoline support for mitigating Spectre v2 and Meltdown where appropriate. GCC 7.2.0 is the default compiler on Ubuntu 17.10. The performance governor on each system was used for testing.
These results are mainly being put out for reference purposes with having both systems assembled the same at the same time. Likewise, with having already reviewed both of these CPUs in the past and with my WattsUp Pro being occupied for other testing, these are just the raw results and without performance-per-Watt, etc. All of these Linux CPU benchmarks were conducted via the Phoronix Test Suite. If you want to see how your own Linux system(s) compare to these results, simply install the Phoronix Test Suite and run phoronix-test-suite benchmark 1801233-FO-LOWENDAMD17.