OSCON 2008 - Evening Extravaganza
O'Reilly Media this afternoon held their Tuesday Evening Extravaganza to mark the end of their tutorial portion of this leading open-source convention and now turning to technical sessions and the expo hall. As part of this extravaganza, Mark Shuttleworth was the keynote speaker and he was talking about free software, driving innovation faster within free software, and the art of software engineering. In addition, the Python Foundation had presented their annual Frank Willison Award, the White Camel Awards were also presented, and the Google O'Reilly Open Source Awards were handed out. The two other speakers this afternoon were Robert Lefkowitz and Damian Conway. Below are a few pictures from tonight's festivities.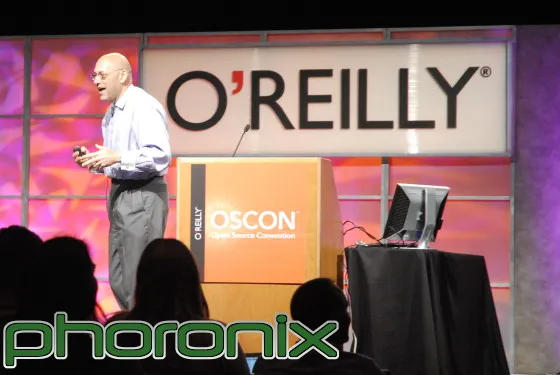 If you enjoyed this article consider joining Phoronix Premium to view this site ad-free, multi-page articles on a single page, and other benefits. PayPal tips are also graciously accepted. Thanks for your support.