OCZ Vector 150 SSD On Linux
The latest solid-state drive being tested at Phoronix is the 120GB OCZ Vector 150. This solid-state drive is quite affordable but has been reviewed favorably by Windows users, so we figured we'd see how well it works when adding it to one of the constantly-running Linux benchmark systems.
The Vector 150 is one of the new solid-state drives out of OCZ and is backed by a five-year warranty and rated for up to 50GB per day of writes under consumer workloads. The OCZ Vector 150 uses 19nm MLC NAND flash memory, a Barefoot 3 controller, and all around a nice upgrade over the OCZ Vector predecessor. Depending upon the model, the OCZ Vector features up to 550MB/s of sequential reads, 530MB/s of sequential writes, up to 100k IOPS for 4KB random reads, and is available in capacities up to 480GB.
For one of the new OpenBenchmarking.org test farm systems I picked up the OCZ Vector 150 120GB drive for just $59 USD while outside the holiday sales the OCZ Vector 150 VTR150-25SAT3-120G is selling for around $100 USD -- for a 120GB capacity this is on the more expensive side.
The 120GB version of the Vector 150 is rated for 550MB/s sequential reads, 450MB/s sequential writes, 80k IOPS random reads, 95k IOPS random writes, and 12k IOPS for steady state random writes. This 7mm thick Serial ATA 3.0 MLC SSD is rated for 2.3 million hours MTBF and supports 256-bit AES encryption.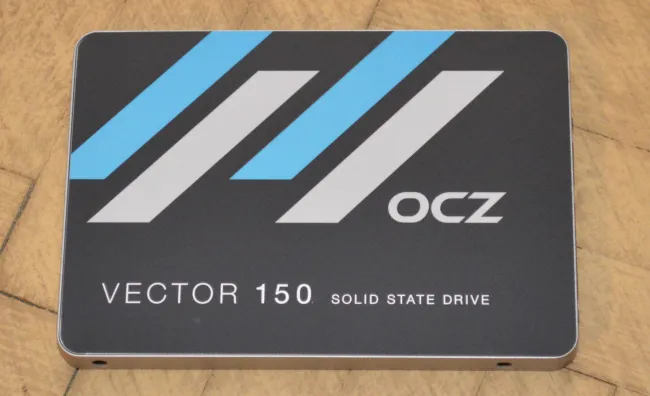 While there isn't much in the way of Linux SSD compatibility issues these days, OCZ does advertise the Vector 150 as being supported under Linux (alongside Windows and OS X), though with the over a dozen OCZ SSDs we've tested at Phoronix over the years, we've never run into Linux issues with any of their drives.
The OCZ VTR150-25SAT3-120G includes a 3.5-inch drive bay adapter along with the Windows-only Acronis True Image HD cloning software.