Examination:
The OCZ Solid 2 SSD looks just like OCZ's other SSDs (and most all 2.5-inch SSDs for that matter) except for its Solid 2 Series label. The drive's casing is made of metal and its exterior is colored black while boasting the burgundy, silver, and white label.
On the back are the usual stickers containing the product information for the OCZSSD2-2SLD60G.
Yep, there are the standard Serial ATA power and data connectors. There is no mini USB connector on the Solid 2.
Performance:
We benchmarked the OCZ Solid 2 SSD under Ubuntu Linux using the Ubuntu 10.04 LTS release with the Linux 2.6.32 (x86_64) kernel, GNOME 2.30.0, X.Org Server 1.7.6, xf86-video-radeon 6.13.0, GCC 4.4.3, and an EXT4 file-system. The hardware consisted of an AMD Quad-Core Opteron 2384 processor, a Tyan S2927 motherboard with NVIDIA MCP55 Chipset, 4GB of system memory, and an ATI Radeon HD 4870 graphics card.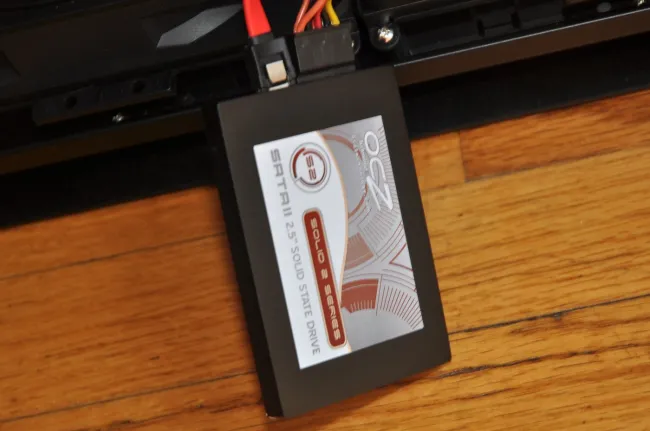 The SSDs we benchmarked were the OCZ Agility EX 64GB, OCZ Agility 128GB, and OCZ Solid 2 64GB drive. Tests included SQLite, PostgreSQL, IOzone, Dbench, FS-Mark, and PostMark.