We Rely On Your Support: This site is primarily supported by advertisements.

Ads are what have allowed this site to be maintained for the past 16 years.

We do our best to ensure only clean, relevant ads are shown, when any nasty ads are detected, we work to remove them ASAP. If you would like to view the site without ads while still supporting our work, please consider our ad-free Phoronix Premium. You can also consider a tip via PayPal.
NVIDIA GeForce GTX 750 Ti "Maxwell": A Great Mid-Range GPU For Linux Users
When it comes to the Linux support for the GeForce GTX 750 Ti, it shouldn't come as a surprise, but as long as you're using the binary driver you are already set. NVIDIA has same-day support available for the GeForce GTX 750 Maxwell series on Linux... In fact, with the NVIDIA 334.16 Beta driver that was released to Linux users at the beginning of the month is where there is initial Maxwell Linux support. In the review process of the early Maxwell hardware, NVIDIA had made available to Windows reviewers a more recent 334 Windows 7/8 beta driver for Maxwell, but we were told that the 334.16 Beta driver is good enough for Maxwell Linux users.
When installing the 334.16 Beta driver on an Ubuntu Linux system, we were all set to go, the GeForce GTX 750 Ti quickly mode-set to 2560 x 1600 on the 30-inch Samsung dual-link DVI display, and 2D/3D/video acceleration was working. The 2GB GeForce GTX 750 Ti graphics card was running on Ubuntu Linux without any issues using this latest beta graphics driver. The PCI device ID on the card was 0x1380 (while the NVIDIA PCI vendor ID remains 0x10de).
The reported temperature of the card shortly after boot-up was around 27~29 Celsius while later in this article will come our full onslaught of thermal and power consumption benchmarks. The reported fan speed at idle was 33% according to the NVIDIA-Settings panel and at this speed was extremely quiet, even when running in an open-air test-bed.
The reported performance levels for the GTX 750 Ti according to NVIDIA-Settings was performance level 0 at a 135~405MHz (min/max) graphics clock and 810MHz for the dedicated memory. The performance level 1 (and last) level was 135MHz min and 1293MHz max for the graphics clock while the memory speed was then locked to 5400MHz for this PowerMizer configuration. Sadly, with Maxwell, NVIDIA's Linux driver still lacks any overclocking support. NVIDIA had long supported "CoolBits" overclocking via their binary Linux driver but the support was never added to Fermi or Kepler graphics hardware and with Maxwell this limitation is still there. NVIDIA has hinted they may add Linux overclocking support back in the future, but for now NVIDIA Linux users will be limited to running their GPUs at their rated speeds.
The reported codecs that the NVIDIA Linux driver can support hardware-based video decoding through VDPAU (Video Decode Presentation API for Unix) included MPEG1, MPEG2, H.264, VC-1, MPEG-4, DivX4, and DivX5.
That's the short overview of the NVIDIA Maxwell Linux driver support with the 334.16 beta driver. The Maxwell GPU support is there, it works, is fully implemented, and I didn't run into any Linux-specific issues with the GeForce GTX 750 Ti. The only outstanding issue with the GTX 750 Ti remains that there's no Maxwell GPU overclocking support on Linux at this time, but hopefully it will come soon along with the long-awaited Fermi and Kepler Linux overclocking support.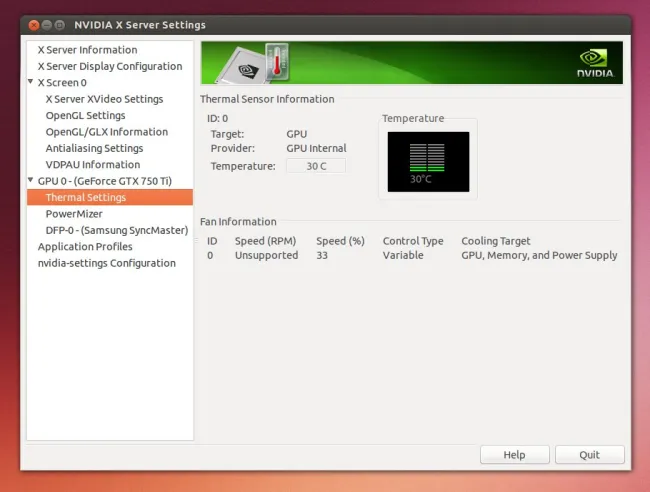 For those wondering about open-source driver support for Maxwell, there's none right now, at least not mainline. The Nouveau driver for Mesa 10.2 and Linux 3.14 doesn't support Maxwell. I had asked some NVIDIA contacts whether or not they were intending to drop some patches soon for Nouveau similar to what they had did with basic open-source driver support for the Tegra K1 graphics, but none had commented whether NVIDIA will be doing some basic open-source work on Nouveau for Maxwell or be leaving it up to the reverse-engineering Nouveau community. Open-source Maxwell support will undoubtedly come, it's just a matter of when and how good it will work in the near-term. Even if there were Maxwell Nouveau support arriving today, I wouldn't recommend it to end-users since the Nouveau DRM driver still lacks much-needed dynamic power management / re-clocking support to make for appropriate performance by being able to up-clock the performance state of the GPU to its rated frequencies (rather than being bound to the boot frequencies) and to down clock when idling. With Maxwell being all about power efficiency, it would be a waste to use it with Nouveau in the driver's current form.