We Rely On Your Support: Did you know that the hundreds of articles written on Phoronix each month are mostly authored by one individual working insane hours? Phoronix.com doesn't have a whole news room with unlimited resources and relies upon people reading our content without blocking ads and alternatively by people subscribing to Phoronix Premium for our ad-free service with other extra features. You can also consider a tip via PayPal.
NVIDIA GeForce GTX 750 Ti "Maxwell": A Great Mid-Range GPU For Linux Users
NVIDIA's pre-launch press material for Maxwell consistently advertised the improved power efficiency of the new architecture and without a doubt, they've certainly managed to deliver. The GeForce GTX 750 Ti performance is a big step-up over the older GeForce GTX 550 Ti / 650 and looking at the performance-per-Watt just makes the story incredible. The GTX 750 Ti was blasting the GTX 550 Ti while consuming just 60 Watts of power instead of ~116 Watts with the older Fermi brother. This level of power efficiency makes the GeForce GTX 750 Ti an ideal choice for an HTPC / mini ITX system, especially for multimedia purposes or living room gaming with having such great 1080p performance while NVIDIA's Linux driver also provides VDPAU for a top-notch accelerated video experience. NVIDIA's Maxwell has the greater advantage on the Linux side since AMD's Catalyst driver doesn't always work very well on Linux (bugs and performance issues) and generally has a tarnished reputation among Linux gamers.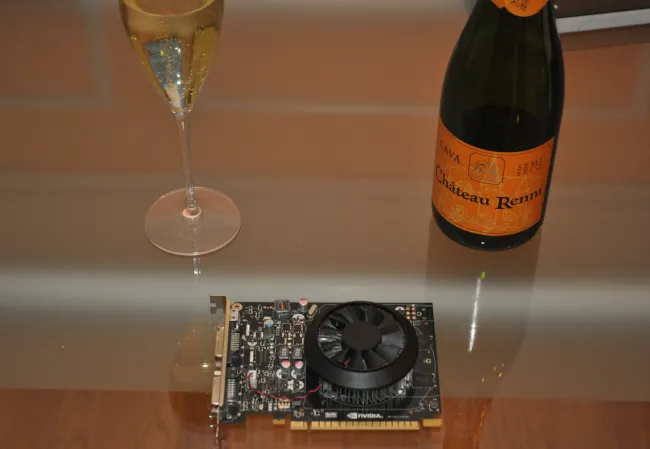 The GeForce GTX 750 Ti had no problems outperforming the similarly-priced AMD Radeon R7 260X and in some OpenGL/OpenCL workloads even taking out the Radeon R9 270X or in the most severe cases of AMD Catalyst Linux driver issues could take aim at the Radeon R9 290 (only due to AMD's Linux driver R9 290 issues in that case). The GeForce GTX 750 Ti also fit in performance-wise quite well against the GeForce GTX 760.
When it comes to the Linux situation with the GeForce GTX 750 Ti, as mentioned earlier in the article, if using the binary 334.16 Linux driver or newer you should be in great shape. I ran into no bugs or other issues with the 334.16 Linux driver while testing the GeForce GTX 750 Ti for the past week. The only complaint I have about the NVIDIA Maxwell Linux support that is carried over from the Fermi and Kepler generations is the lack of overclocking support. NVIDIA's hinted that they might restore Linux GPU overclocking support, but with the 334 series that is still not to be found. Aside from lacking overclocking support, the NVIDIA Maxwell Linux support is spot on with the Windows 7 and 8 NVIDIA driver. On the hardware request side, the only other nicety out of this mid-range graphics card would have to seen a greater memory bus, but even still the performance is already great considering the 128-bit bus. A single slot cooler should also be adequate for the GM107 GPU rather than this small but dual slot heatsink as it exists now.
In terms of open-source support for NVIDIA Maxwell, NVIDIA hasn't communicated whether or not they will be providing any initial Nouveau DRM support patches themselves in the coming days, supply GeForce GTX 750 hardware to Nouveau developers, or have any documentation contributions to make in the days/weeks ahead. We'll have to wait and see... Stay tuned for Phoronix articles when there is Nouveau Maxwell support and for progress and benchmarks on the open-source NVIDIA driver support. Right now there is no open-source support, but it wouldn't be wise anyways to use Maxwell with the Nouveau driver until there is suitable dynamic power management / re-clocking support found in Nouveau.
Nouveau is still catching up with its re-clocking / power management support for several generations and until it's there for Maxwell the overall OpenGL performance will be limited due to being stuck to running at the boot GPU core/memory frequencies and the power efficiency will be disappointing. Your best bet in the months ahead for using the GeForce GTX 750 Ti "Maxwell" on the Linux desktop will certainly be with NVIDIA's official binary graphics driver.
If you are looking for a low or mid-range graphics processor for a Linux system and don't mind using the binary drivers, I would highly have to recommend the GeForce GTX 750 Ti. This graphics card is hard-launching today at $149 USD. This graphics card provides incredible performance for the price, especially considering the performance-per-Watt with just having a 60-Watt TDP and not requiring any external PCI-E power connector. The performance is great for the casual Linux gamer at 1080p and its low power-use plus excellent VDPAU video acceleration support by the binary Linux driver would make it an ideal candidate for small form factor / living room PCs. The GTX 750 Ti also ran cool and we have no noise complaints to report -- even when running in an open-air environment the graphics card was silent.
For those Linux users/gamers having any other questions about the GeForce GTX 750 Ti on Linux, feel free to post in the forums or via @MichaelLarabel on Twitter along with our other Twitter, Google+, and Facebook accounts. We will have more GeForce GTX 750 Ti "Maxwell" Linux benchmarks in the days ahead. This Maxwell graphics card provides incredible value and we can't wait to see how the other Maxwell GPUs perform as the series expands in the months ahead. If you appreciate all of the benchmarking done at Phoronix and this first Linux review of NVIDIA's Maxwell GPU (all the other reviews you'll see today will be Windows-based), please become a Phoronix Premium subscriber.
Last but not least as a reminder for those of you running the Phoronix Test Suite on your own systems, thanks to OpenBenchmarking.org, you can easily see how your own system compares to the 21 graphics cards tested in this article -- including the GeForce GTX 750 Ti Maxwell on Ubuntu Linux -- by simply running phoronix-test-suite benchmark 1402176-PL-NVMAXWELL44. With our open-source fully-automated, 100% reproducible benchmarking software, it's that easy!
If you enjoyed this article consider joining Phoronix Premium to view this site ad-free, multi-page articles on a single page, and other benefits. PayPal tips are also graciously accepted. Thanks for your support.