We Rely On Your Support: Have you heard of Phoronix Premium? It's what complements advertisements on this site for our premium ad-free service. For as little as $3 USD per month, you can help support our site while the funds generated allow us to keep doing Linux hardware reviews, performance benchmarking, maintain our community forums, and much more. You can also consider a tip via PayPal.
NVIDIA GeForce GTX 780 Ti Steams Ahead On Linux
Looking for a very high performance GPU for OpenGL graphics or gaming on Linux? Well, the results in this article basically speak for themselves. While the AMD Catalyst Linux driver has improved a great deal in recent years, as of late it's been a hit-or-miss in terms of the quality of a given driver release with the likelihood of causing regressions or working well with the latest Steam Linux titles. Valve went with NVIDIA graphics exclusively in their first-run Steam Machines prototypes for a reason.
The AMD Radeon R9 290 series driver issues on Linux will likely be worked out soon, but it wasn't for this round of testing. AMD has already resolved some of the R9 290 performance issues in the Windows driver, but AMD hasn't released any new Catalyst Linux Beta that ports these changes -- even though the hardware has been on the market for nearly one month now and this goes to show just how concerned AMD is about Linux support... They also didn't want to provide any "Hawaii" GPU review samples for Linux testing, but that's now clear too. The performance issues have also been confirmed by Phoronix readers, including from R9 290X testing.
If you don't mind spending nearly $700 USD on a graphics card (~$500 for the GTX 780 or ~$700 for the GTX 780 Ti), the GeForce GTX 780 Ti is one heck of a performer for OpenGL games/benchmarks as showed by the Phoronix article today. When it comes to its thermal performance it was hot but not too hot and certainly not at the levels of the R9 290. The GTX 780 Ti does consume a lot of power too, but its performance-per-Watt was leading over the other tested AMD and NVIDIA graphics hardware.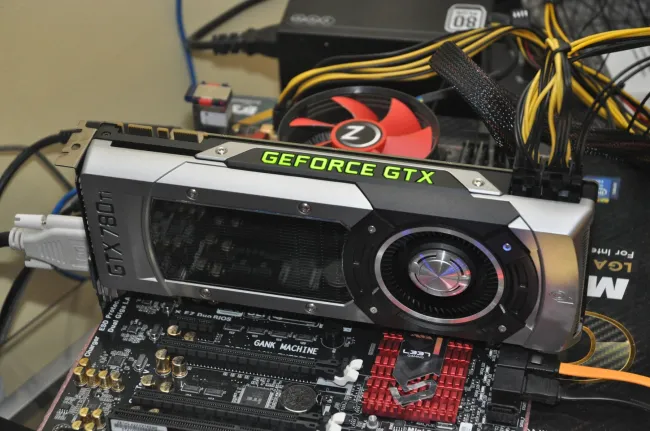 While I will talk about the other GTX 700 series graphics cards independently in their own Linux articles, there are just two major use-cases where I wouldn't recommend the hardware:
- If open-source graphics drivers are a major concern for you, the NVIDIA hardware is off-limits. While NVIDIA has begun to support the "Nouveau" graphics driver project and provide some level of public documentation, they haven't done too much yet to help out the reverse-engineered open-source graphics driver. The Nouveau driver simply can't be relied upon right now especially for the latest hardware. Even for older NVIDIA GPUs this open-source Linux driver is like a game of Russian Roulette between Linux kernel and Mesa updates with regressions being far too common. For the newer NVIDIA hardware, the Nouveau performance is crippling especially for the Fermi and Kepler generations.
The main feature limiting the driver's abilities is no viable re-clocking support (some support was merged for Linux 3.13 but still isn't usable) so the driver can't change the graphics cards from their stock shader/core/memory frequencies programmed by the video BIOS at boot time. Regardless of GPU load, the performance states can't be changed right now so the Nouveau driver is generally running extremely slow. Until re-clocking can be relied upon and other improvements made to Nouveau, for those that require open-source GPU drivers the best bet is Intel graphics or AMD Radeon. Intel delivers the best open-source support and employs many developers to work on their open-source graphics driver while the AMD Radeon open-source driver has improved a lot recently but with far less resources; for some use-cases, the open-source AMD driver is now on par (or even exceeding) the hit-or-miss Catalyst Linux binary driver.
- OpenCL performance is still a loss on NVIDIA. Similar to past benchmarks done at Phoronix of just not LuxMark but other Linux OpenGL benchmarks, NVIDIA GPUs tend to comparatively run slower than AMD Radeon GPUs for OpenCL tasks. NVIDIA hardware is great when using their own CUDA environment, but for OpenCL their drivers could use some more love.
Overall, the GeForce GTX 780 Ti appears to be a terrific graphics card for Linux users on the binary driver: the performance is top-notch and I have yet to run into any driver issues. The only complaint I can even think of right now for the GeForce 700 series in general about the official NVIDIA Linux driver would be the lack of overclocking support on the Fermi/Kepler GPUs.
Again, if you want to see how your own system's performance compares to all of the data in this article from the fourteen graphics cards, it's as easy as installing the Phoronix Test Suite and running phoronix-test-suite benchmark 1311212-SO-GTX780TIN09 to generate your own fully-automated side-by-side Linux OpenGL performance comparison.
Besides more GTX 700 series tests coming out at Phoronix, other upcoming articles with these new GPUs will be a new Linux vs. Windows performance comparison, Ultra HD / 4K testing on Linux, etc. Your feedback is welcome via the forums or @MichaelLarabel. For those that appreciate Phoronix as the sole resource for Linux hardware reviews, benchmarks, other exclusive content, and the efforts that are invested into the publicly available Phoronix Test Suite client software, please consider subscribing to Phoronix Premium.
If you enjoyed this article consider joining Phoronix Premium to view this site ad-free, multi-page articles on a single page, and other benefits. PayPal tips are also graciously accepted. Thanks for your support.