NVIDIA GeForce GTX 680 "Kepler" On Linux
Most of the Linux OpenGL results show the GeForce GTX 680 2GB in its current clocking conditions running neck-and-neck with the AMD Radeon HD 7950 while also offering up a comparable performance-per-Watt efficiency. The MSI GeForce GTX 680 is currently priced at $499 USD while the Radeon HD 7950 retail is priced at $460~470 USD, so it is quite an interesting battle at hand.
The Radeon HD 7950 costs slightly less, but on the plus side for the GTX 680 it does have two strong benefits with the binary driver over the AMD Catalyst Linux stack at present: VDPAU remains far superior than AMD XvBA (X-Video Bitstream Acceleration) for GPU-accelerated video playback on Linux and the GPGPU/OpenCL support for NVIDIA GPUs and their Linux SDK tends to be superior to the AMD APP/Stream SDK under Linux. If you are at all interested in multi-GPU support, NVIDIA SLI under Linux is the definite winner, as the AMD CrossFire support under Linux remains a big wreck. The NVIDIA binary Linux driver is also generally better received by Linux desktop users than the AMD Catalyst Linux driver, just stop by the Phoronix Forums for plenty of polarized references.
When it comes to open-source support for the competing Kepler and Southern Islands graphics cards, this is now a toss-up. In terms of company friendliness towards open-source support, AMD remains the definite leader over NVIDIA. NVIDIA is doing nothing to help (nor hinder) the Nouveau driver project and they just recommend using the VESA driver until you can install their closed-source driver. As said earlier, NVIDIA marketing/PR also evidently does not care much at all about Linux. What's different for the latest-generation hardware though is that the reverse-engineering Nouveau crew already has Gallium3D working on Kepler while AMD's still bring up GCN/SI on Gallium3D. So if you want to use the latest hardware but on the open-source driver, it is now a toss-up.
If you want to support the company that is serious and committed to open-source, AMD remains the best buy. However, if you want an open-source driver that will "just work" with the new hardware, Kepler is already working while it will likely be some time still before the "RadeonSI" stack is in a good state. If going the Nouveau route, be forewarned that some tweaking may be required in extracting the "FUC" microcode, there is still re-clocking support needed, and there is not fan management, among other limitations. I already have the GeForce GTX 680 benchmarks under this initial open-source code and those numbers will be published in the coming days along with further comments. Stay tuned for many articles going forward to see how the open-source support for both generations of hardware (and Intel's really interesting Ivy Bridge driver on Linux) turn out. If you are serious about exclusively using an open-source driver, right now you are best off just using a graphics card that is at least two generations old where there is mature support for both the Radeon and Nouveau drivers.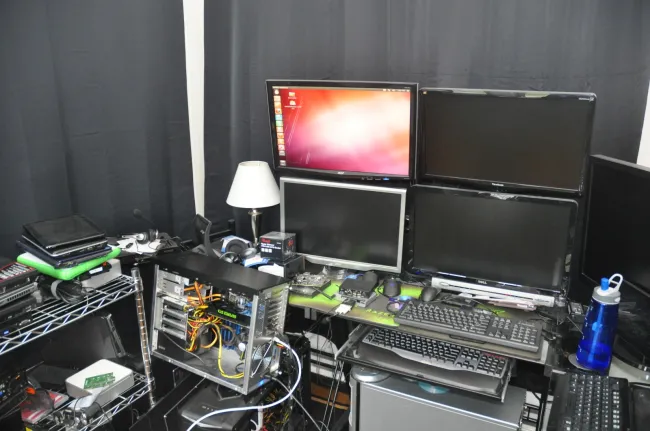 The Nouveau Kepler Gallium3D testing was done in another software/hardware configuration due to the ongoing Intel Ivy Bridge benchmarking under Linux. Results are coming soon.
As it stands right now, with the pricing between the HD 7950 and GTX 680 being roughly similar, for the two graphics cards it comes down to your view on binary drivers vs. open-source drivers, any brand preference, and whether VDPAU and OpenCL are important to you. Both the AMD Radeon HD 7950 and NVIDIA GeForce GTX 680 graphics cards are good buys for Linux desktop use.
Thanks again to NVIDIA's Linux graphics manager, Hardy Doelfel, for sending over this card to borrow for the testing. If there are any Phoronix readers within the forums that have any other Kepler Linux test requests while testing out the graphics card at its higher clock speed in the next few days, quickly share your requests in the forums.
For those wishing to see how your Linux/BSD system compares to the numbers in this article, it is very easy to do so using the Phoronix Test Suite. For the bulk of the results in this article, it is a matter of just running: phoronix-test-suite benchmark 1204129-SU-NVIDIAGEF19 (and set the MONITOR=gpu.temp environment variable prior to execution if wanting the GPU core temperature monitored). The Unigine Heaven and Xonotic resolution scaling performance can be done by running: phoronix-test-suite benchmark 1204129-SU-GEFORCEGT75. Lastly, there are some other open-source Linux-native OpenGL game benchmarks available by running: phoronix-test-suite benchmark 1204110-PTS-GEFORCEG20. For those not familiar with the Phoronix Test Suite, run those commands will then automatically download, install, and execute the needed tests in a fully automated and standardized manner across platforms in a turn-key manner.
If you enjoyed this article consider joining Phoronix Premium to view this site ad-free, multi-page articles on a single page, and other benefits. PayPal tips are also graciously accepted. Thanks for your support.