NVIDIA GeForce GTX 460 On Linux
The Palit NE5TX460FHD79 closely follows NVIDIA's GeForce GTX 460 reference design down to the heatsink used to cool the GF104 core. However, in the case of Palit they have colored orange the nine-blade fan. The black heatsink shroud covers the entire face of the graphics card though the heatsink does not come in contact with any of the memory ICs.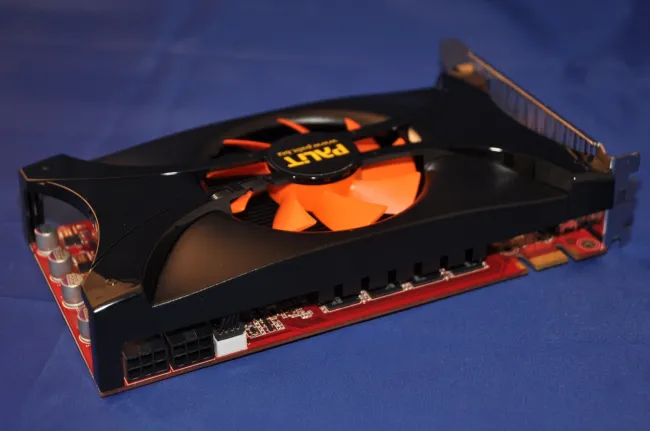 The GeForce GTX 460 graphics cards pull around 160 Watts of power at their peak, which requires two 6-pin PCI Express power connectors. NVIDIA recommends the system's power supply offer at least 450 Watts. The 768MB of GDDR5 memory is made up of Samsung K4G10325FE-HC05 ICs, which are rated to run with a 1000MHz frequency while Palit only has them running at 900MHz, which does allow for some easy overclocking headroom.
There is only a single SLI connector with the GeForce GTX 460, which allows two of these GF104 parts to operate in tandem and there is also support for NVIDIA's 3D Vision technology, but lacking is support for three-way SLI.
The display connectors on this PCI Express 2.0 graphics card include one VGA, one dual-link DVI, and one HDMI output. Unfortunately -- unlike the Radeon HD 5000 series hardware with the ATI Eyefinity support -- only two display outputs per graphics card can be used at a time. Seeing the VGA output on this Palit graphics card was a bit surprising with NVIDIA's reference design using two dual-link DVI outputs. The second expansion slot on this graphics card is used for the cooling fan's exhaust.
This NVIDIA GF104 graphics card and PCB were manufactured in China. Four screws secure the heatsink in place and there are an additional two screws at back of the graphics card for better securing the full-length heatsink shroud.