The EVGA GeForce GT 520 has two DVI connectors (one dual-link, one single-link DVI) and one HDMI output. Cooling the full-width PCI Express graphics card is a very small aluminum heatsink with a petite two-pin fan. The fan was quiet during operation and was enough to keep the GF119 core cool along with the DDR3 video memory. The graphics card besides the active heatsink was quite bare.
In terms of the Linux support for the GeForce GT 520, it obviously works with the proprietary NVIDIA Linux driver. Using a recent release of the NVIDIA Linux driver should allow the GeForce GT 520 to work just fine. While the NVIDIA Linux driver blob is effectively on-par with the NVIDIA Windows driver in terms of features and performance, the GeForce 400/500 "Fermi" series continues to lack overclocking support under Linux. The GeForce GT 520 will also work with VDPAU under Linux for GPU-based video playback acceleration.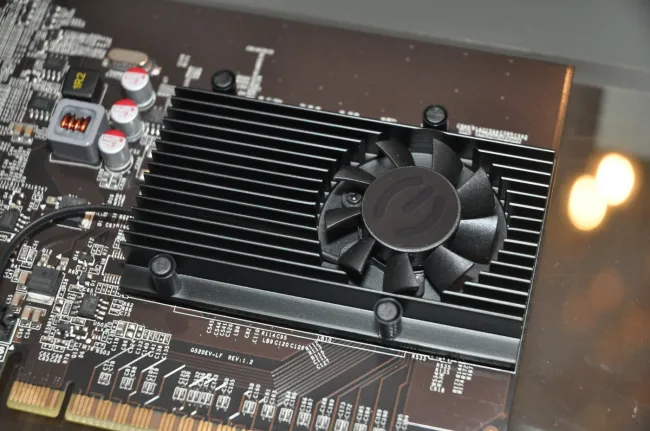 If you want to use an open-source driver, the Nouveau driver's support of Fermi hardware is still up-and-coming. Kernel mode-setting will work fine, but acceleration is still a work-in-progress. Finally with the Linux 3.1 kernel it should work fairly decent thanks to no longer needing to manually load the FUC microcode, but the Nouveau DRM driver can handle the context initialization just fine using its own solution. For OpenGL on Nouveau Fermi, the very latest Gallium3D/Mesa code is highly recommended. There will be some new Nouveau Fermi benchmarks on Phoronix within a few weeks.
For this low-end Fermi review, the GeForce GT 520 was compared to the GeForce 9500GT, GeForce GT 220, GeForce GT 240, and GeForce GTX 460 on the NVIDIA side. On the AMD side was a Radeon HD 4650, Radeon HD 5450, and Radeon HD 6570 graphics cards.
The test systems was one of the usual Intel Sandy Bridge setups with a Core i5 2500K CPU, Sapphire Pure Black P67 Hydra motherboard, 4GB of system memory, and 500GB Western Digital SATA HDD. Ubuntu 11.04 was used with the Linux 2.6.38 64-bit kernel, GNOME 2.32.1 with Compiz, X.Org Server 1.10.1, GCC 4.5.2, and the EXT4 file-system. The NVIDIA 280.04 display driver was used for testing along with the AMD Catalyst 11.4 Linux driver.
All testing was managed by the Phoronix Test Suite. Besides the frame-rates for some of the demanding OpenGL games with native Linux clients, the GPU temperature and system power consumption were also compared between the different graphics cards.