We Rely On Your Support: Have you heard of Phoronix Premium? It's what complements advertisements on this site for our premium ad-free service. For as little as $3 USD per month, you can help support our site while the funds generated allow us to keep doing Linux hardware reviews, performance benchmarking, maintain our community forums, and much more. You can also consider a tip via PayPal.
For a year now Intel has been flaunting its 45nm "Penryn" processor core with its SSE4 instruction set, High-K metal gate transistors, and 6MB of L2 cache. Most of the Penryn media attention has been focused upon the desktop Core 2 processors, but in January at the 2008 Consumer Electronic Show Intel had rolled out sixteen new products and a dozen of them were mobile oriented. Among these Intel innovations were the first mobile Penryn processors. These mobile Intel 45nm CPUs accompanied the Penryn desktop line-up that first began in November of 2007 with Core 2 Extreme QX9650 and then continued with several new Core 2 Quad and Core 2 Duo models. On the server front, the Penryn equivalent is Harpertown and those quad-core Xeon processors have been shipping for the same length of time. Today we are focusing upon the Intel Penryn performance on the mobile front as we explore the Core 2 Duo T9300. The Core 2 Duo T9300 is running inside a Lenovo ThinkPad T61 notebook and we have compared its performance against earlier Centrino-based ThinkPads as we look at how this latest Intel processor performs with Ubuntu Linux.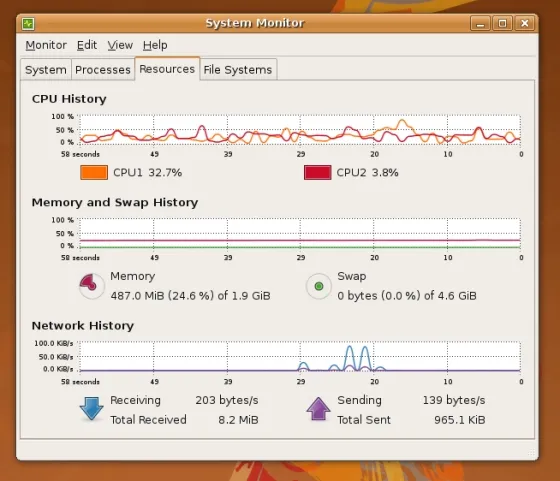 Intel's Core 2 Duo T9300 is a dual-core part clocked at 2.50GHz, has 6MB of Level 2 cache, hafnium-infused circuitry, and 800MHz front side bus. The Penryn parts also support other Intel innovations such as Wide Dynamic Execution, Deep Power Down Technology, Smart Memory Access, Turbo Memory, Digital Media Boost, Rapid Memory Power management, and Dynamic Power Coordination. Unlike the desktop Penryn processors with the Intel Bearlake motherboards that operate with a 1333MHz FSB, the mobile Penryn processors with the mobile 965 "Crestline" Chipset are bound to an 800MHz FSB. These mobile processors exclusively use DDR2, but Intel's next-generation mobile processors will utilize DDR3. With the next-generation "Montevina" processors, Intel will also be embedding WiMax capabilities (802.11g/n WiFi support will remain). THe Intel T9300 also possesses Intel Virtual Technology (VT), Enhanced Intel SpeedStep Technology (EIST), Intel 64, SSE4, and Execute Disable Bit. Last but not least, the Core 2 Duo T9300 has a Thermal Design Power (TDP) of 35 Watts.
Above are a few of the Intel Penryn slides (mostly on the power enhancements) from one of the sessions we were at during the 2007 Fall Intel Developer Forum. The Core 2 Duo Mobile Penryn line-up currently consists of the T8100, T8300, T9300, and T9500. Leading Intel's mobile processor line-up is the Core 2 Extreme X9000, which the flagship T9500 only has a 100MHz frequency boost over the T9300. Differing the T8XXX and T9XXX parts is that the T8100 and T8300 only have 3MB of L2 cache.
These mobile Penryn processors are part of Intel's "Santa Rosa Refresh", with the Intel 965 Express Chipset continuing to live on as part of this H1'08 revision. The Mobile Intel 965 Express Chipset supports an Intel Core 2 Duo processor on a 533/800MHz bus, integrated Intel graphics or a discrete graphics processor via PCI Express x16, DDR2-533/667 memory, and an Intel Active Management Engine. The Intel 82801 Southbridge supports six PCI Express x1 lanes, Intel Turbo Memory, Serial ATA, Intel HD Audio, USB 2.0, Gigabit Ethernet, and Intel 4965AGB WiFi.